Apr 14 2021
Source
Princeton School of Public and International Affairs
Using new technologies like artificial intelligence (AI) to improve humanity is at the core of Robert L. Gordon MPA '89's work. As chief growth officer of SBG Technology Solutions, Gordon is using a multi-sector approach to bring the latest technologies to the masses.
Throughout his career, he's also learned how to be a thoughtful and strategic leader. He boils it down to three main tenets: know who is around the table (and their stakes and stands), be inclusive and transparent, and give people a voice. Finally: When in charge, take charge. 

He shares his story, as well as some memories from his time at the Princeton School of Public and International Affairs (SPIA), in the Q&A and bonus podcast below.
Q. What do you think is the most important policy issue facing us today?
Gordon: Technology continues to advance and evolve at a very rapid pace. Our policymaking process needs to keep pace with the evolution of technology. Part of that is the ethics of technology. What ought we pursue as a species and as a nation with respect to continuing to increase the welfare function of the state? Some key decisions from policy leaders and policy analysts will be extremely important.
Q. What current project or initiative are you most excited about?
Gordon: It is bringing artificial intelligence to the masses and democratizing AI. This is a project and a vision that we want to bring to education. Undergirding this vision is the point that AI has not been available to the masses in many of our other sectors. It's costly, requires high human capital, and it takes a length of time from ideation through the deployment of AI. We are embarked at SPG in creating training that will require no coding and no programming skills to be able to build artificial intelligence and machine learning pipelines, and then develop use cases for organizations. We are focusing this training on that— coupled with the ethics of AI and deeply thinking about the correct way of using it.
Q. What are some of the more important skills and strategies you've learned throughout your career?
Gordon: I had a chance as a young child to experience different cultures and come to terms with the consistencies among cultures that you see — education, health, safety, and security. But mixed in all of that is this notion of a strong ethic of love and familial relationships and the ability to build vibrant community. If there was a thread through everything that I've done, it is that. How do you improve the human condition? And then on top of that, how do you use new technologies to be able to do that? To be able to bring humans together in more powerful ways to build trust? My strategy has evolved to achieve, and hopefully play a small role, in being able to improve humanity along those lines.
Q. How do you go about forging a consensus in your work? What are some tips that you would offer young policymakers or others?
Gordon: There are a number of different strategies. First, know who is around the table and who the decision-makers are coming into the room. Second, be as inclusive as possible and as transparent as possible. And third, I would say, give people a stake in terms of a voice. Finally, if you are a decision-maker, make a decision. When in charge, take charge. People's voices make a difference. Honor those voices and ensure that you recognize that they're meaningful voices in terms of what their stakes and standards are.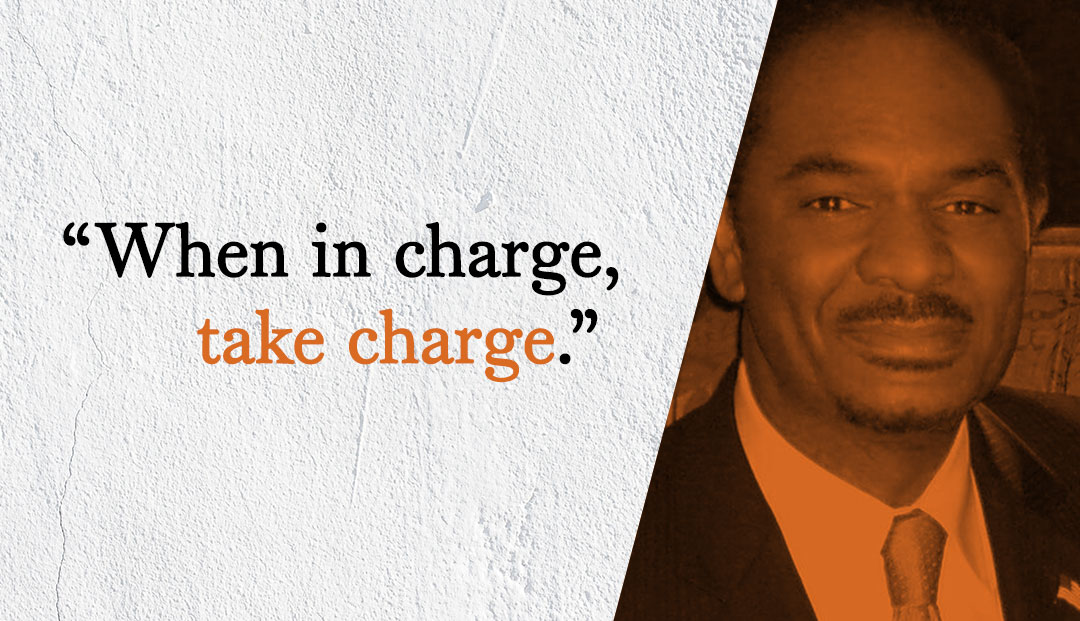 "When in charge, take charge. People's voices make a difference. Honor those voices and ensure that you recognize that they're meaningful voices in terms of what their stakes and standards are."

Robert L. Gordon III MPA '89
Q. How did SPIA prepare you for your career?
Gordon: Three ways: The School has first-class professors and the professors teach us. Having access to some of the greatest minds who are really dedicated to teaching is instrumental in being able to be imbued with the kinds of skill sets and education of abstract learning that is so important to being a policymaker or policy analyst later. Second, the School has incredible students. You learn as much from your fellow students as you do from sitting in a classroom. And then because the School is small, it's intimate in terms of forging trust, relationships, genuine friendships, and a vibrant relationship network, both among the professors and among the students and those supporting the university. The School does all three of those things — great teaching, great professors, terrific student body, and developing a trust network.
Q. How do you think the School trains students to be policy leaders or leaders in their own right? What are some of the more tactical skills you gained at the School that you still employ today?
Gordon: A perfect example is dealing with the U.S. Congress. I went into my job as deputy undersecretary of defense, and I was overseeing one program that, before I got there, ran out of money and shouldn't have. It was an education program for junior military spouses so they could go on and then become certified and get jobs. I was called over to Congress on short order. The School and its exercises helped me think through what I was about to say. The first thing I did when the senior officials came into the room was apologize, that the program didn't work out as they had intended. The second thing I did was say, "Hey, look, I'm going to fix it. And here are a couple of ideas I've got." The School imbues in you how you incorporate actors and influencers in the policy process of getting things done. I asked them for their advice and said I would value it. Those three things did work, and we were able to re-craft that program into something very powerful, eventually called the military spouse employment partnership, which exists to this day. My approach included the kinds of skills that I learned while I was at the School.
Q. How do you think young people can be successful today?
Gordon: There are so many challenges and opportunities. It's interesting as we look at this inflection point in which humanity is involved. This pandemic is across the world. We are all going through the same thing and exogenous events like this are very defining if they pull back the covers on societies. We're experiencing that right now in the United States in so many different ways. Are our systems up to par? How about our political system? Is it vibrant? Can it bring people together? Do we have the kinds of technologies in place to move forward beyond this? What about the public policy between technology and public policymakers? It's a challenging and exciting time to be at the School, graduate, and then use the skill set, trust networks, and the personal development that happens while you're at the School to be able to address some of these very big, gnarly, challenging issues to help move humanity forward. What the School continues to do is find the best of the brightest and those who are focused on making humanity better.
Q. What do you think will be forever changed by this time that we're living in? What do you think may never be the same again?
Gordon: I call it the "new new." I don't think we are ever going back to the way that we were. We used to talk about innovation that was going on in garages across the country. Well, that innovation is now in homes and condos and apartments. That innovation revolves around the connectivity with social media and new communications network; ideas are falling back and forth. Now, there are certain sectors that will completely change. And the reason for that is regardless of this pandemic, automation continues, technology advancements continue. We're going to see new pathways and innovations that are ongoing in transportation. We will go back to a time where we'll be able to physically connect again, but we won't go back to where we were before.

Q. Any closing thoughts?
Gordon: There are not many opportunities to say thank you to your professors and to your schools that play such an important role in shaping who you are. And Princeton has done that for me. It has been instrumental in shaping who I am. Professors, my deans, during that period of time, the other students, it was a wonderful time of my life. I learned so much about not only the subjects I took, but myself as well. And I just wanted to take this time to appreciate all of them and thank them very much. I am forever grateful.
---
#Changemakers: Alumni Making a Difference is a Q&A series featuring alumni of the Princeton School of Public and International Affairs.
Alumni Making a Difference
#Changemakers: Alumni Making a Difference is a series featuring alumni of the Princeton School of Public and International Affairs.