Jun 27 2022
Source
Princeton School of Public and International Affairs
Around 70 alumni returned to campus this spring for the annual Students and Alumni of Color (SAOC) Association symposium at the Princeton School of Public and International Affairs. This year's theme addressed issues of social and racial justice from a global perspective, shining a spotlight on the global nature of oppression, resistance, and freedom.
"Thinking Beyond Borders and About Transnational Solidarity" was held on April 2 and 3 at Robertson Hall and was the first SAOC Symposium held in person since 2019.
"There's energy within the SAOC committee that put forward this symposium theme," said Amina Johari MPA '22, symposium co-chair. "The alumni we spoke with were so excited about this year's theme and said that it was partly why they came."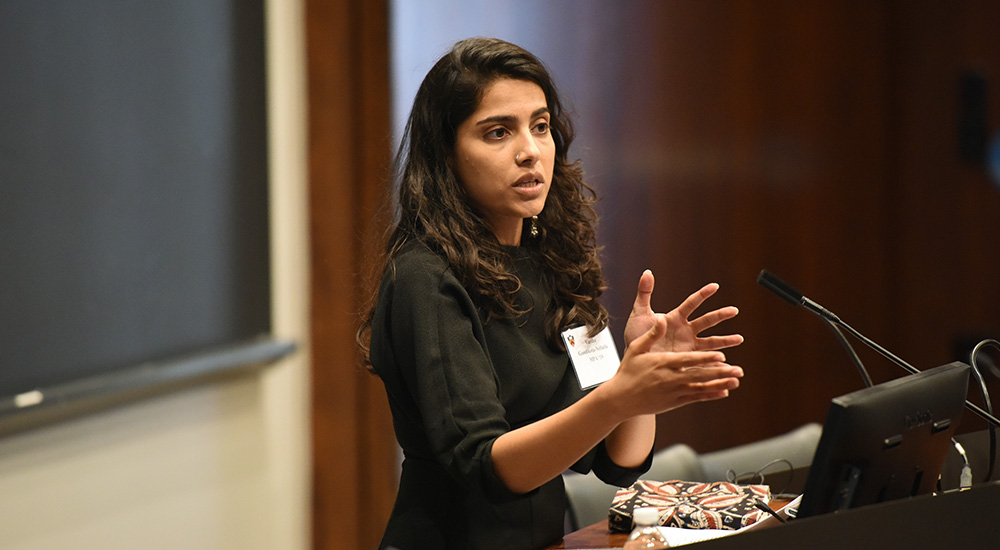 Varsha Gandikota-Nellutla MPA '19 delivered the keynote speech to kick off the weekend. Ganikota-Nelluta's work is focused on public policy for internationalism, and she currently serves on the Cabinet of Progressive International, which was founded in May 2020 to unite, organize, and mobilize progressive forces around the world.
Other conversations focused on decolonization and reimagination with facilitators from indigenous roots and a storytelling workshop with Denise Kumani Gantt from StoryCenter and Dallas Mayor Eric Johnson MPA/JD '03. A large group of alumni was involved in the "Decolonization and Global Justice" session. Panelists included Rochelle Haynes MPA '06, Kidus Asfaw MPA '14, James Kiawoin MPA '19, Summer Lopez MPA '08, Qazi Rashid MPA '18, and Suman Sureshbabu MPA '07.
"I take great pride in the symposium we organized because, for the first time, we had a more international focus in the symposium, and we had indigenous speakers," said co-chair Guillermo Herrera-Nimmagadda MPA '22.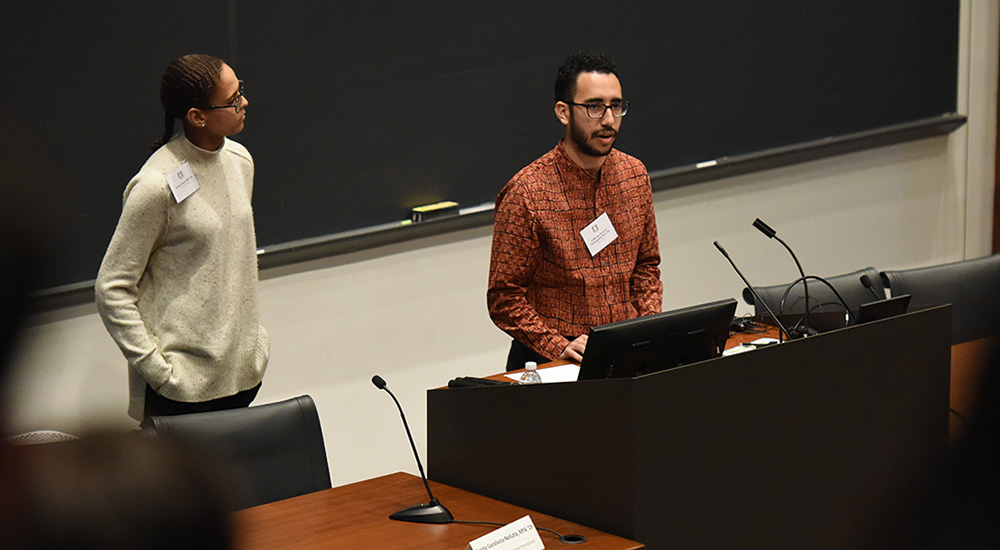 The professional and personal connections alumni offer to current students are "special" and invaluable, Johari said.
"I've been blown away by how willing they are to give their time and energy to supporting current students and how invested they are in our success here at Princeton, but also beyond," she said. "There is something really special about having mentors who are also people of color, in terms of helping you navigate your workspace and any challenges that come up being BIPOC."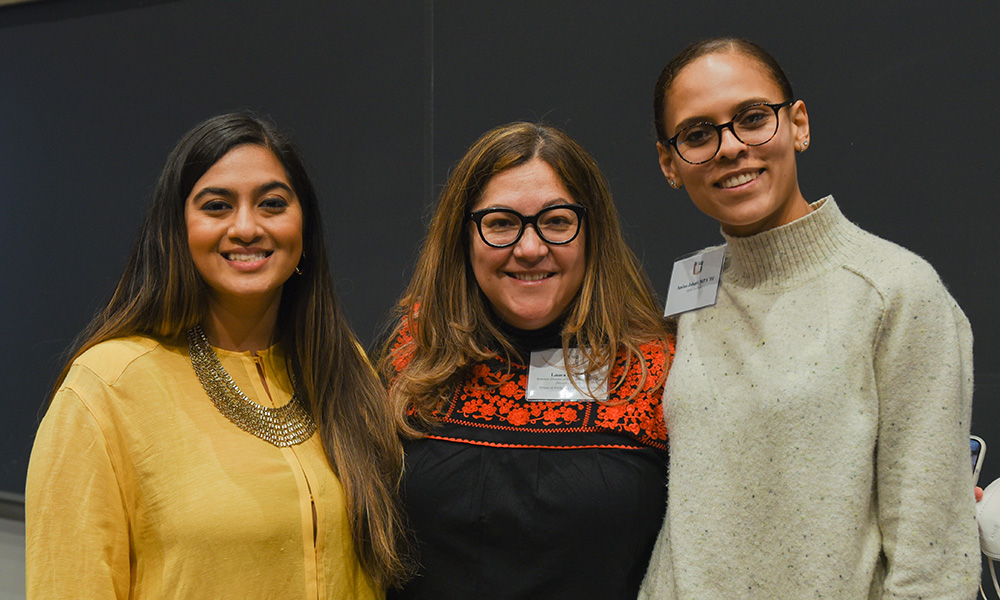 Diversity, equity, and inclusion is a strategic focus of Dean Amaney Jamal. The co-chairs see the SAOC as part of fulfilling this mission, serving as a resource for both current students and alumni who are willing to offer up their time and resources. Co-chair Nausheen Rajan MPA '22 said the symposium weekend is emblematic of one way to contribute to DEI efforts. "It's not just about a weekend, but about a culture," Rajan said.
The co-chairs have all graduated and are already looking ahead to returning to SPIA for next year's symposium.
"We all want to keep supporting SAOC," Rajan said. "We want to help those going forward to bring their vision into reality like alumni have helped us."
Laura De Olden, associate director for graduate student life diversity initiatives, leads the SAOC and worked extensively with the student co-chairs to organize this year's event.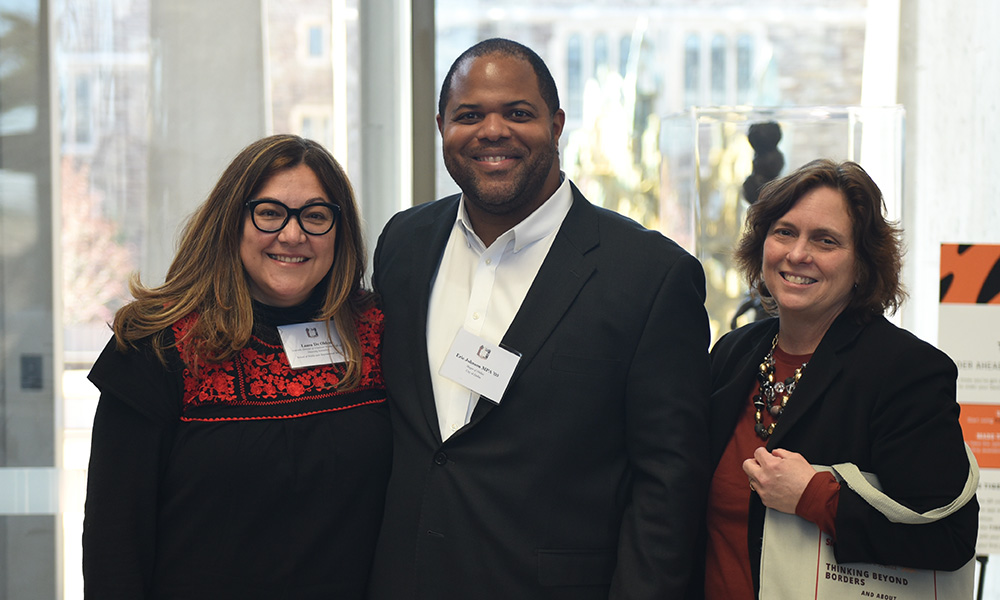 "SPIA is known for small cohorts that create a tight-knit sense of community, yet even within the School's larger community, students have the ability to create their own organizations and affinity groups based on their policy interests and/or aspects of their identity. SAOC is a prime example of this," she said.
Since its inception in 1996, SAOC has facilitated relationships between its students and alumni, as well as the various racial, ethnic, cultural, and other communities inhabited beyond Princeton. The group meets bi-annually at a fall mentorship retreat and spring symposium, usually held on-campus.