May 18 2016
Source
Woodrow Wilson School
Concern for the health and well-being of others has long been a driving force for Marlise Pierre-Wright '12, MPA '16. As a Princeton University undergraduate student, this passion led her to assume several leadership roles on campus, including serving as a Healthy Minds peer advisor and a member of the Student Health Advisory Board.
Pierre-Wright's desire to serve others also led her to apply to the Scholars in the Nations' Service Initiative (SINSI), a program sponsored by Princeton's Woodrow Wilson School of Public and International Affairs.
Established in 2006, SINSI is designed to encourage, support and prepare exceptional students for careers in federal service. SINSI scholars pursue a Master in Public Affairs (MPA) in conjunction with a two-year, SINSI-supported fellowship with the federal government.
SINSI recruits Princeton undergraduates from across campus, representing a broad range of academic backgrounds; in years past, scholars have majored in such fields as astrophysical sciences, chemical and biological engineering, molecular biology, Judaic studies and the Woodrow Wilson School, among others. Pierre-Wright's concentration was in English with certificates in African-American Studies and Spanish.
After being accepted as a SINSI scholar in the fall of her junior year, Pierre-Wright turned her attention to identifying which SINSI internship she wanted to pursue the following summer.
"The federal government is really broad," Pierre-Wright said. "People think CIA or FBI, foreign services or the Department of State, and those are all great agencies, but there's so much to be done. Anything that you think of that you are interested in, there's a federal agency overseeing that somewhere."
Pierre-Wright ultimately chose an internship in Washington, D.C., with the Administration for Children and Families (ACF), a division of the U.S. Department of Health and Human Services. She felt that working for ACF's Family Violence Prevention Service Division would allow her to use the skills she acquired as an English major to combat violence against women in the United States.
"I'm very proud of my English major, and I think people underestimate what you can do with it," Pierre-Wright said. "When I started working in the federal government, I felt I had majored in the perfect discipline. My internship provided me with the opportunity to use my research and analytical skills to understand the field of domestic violence from a policy standpoint."
While working in Washington that summer, Pierre-Wright wrote a section of the ACF's Report to Congress on its efforts to address dating violence. She also participated in task forces dedicated to improving the health care system's response to domestic violence.
In addition to being accepted as a SINSI scholar, Pierre-Wright also received the Adel Mahmoud Global Health Scholarship from the Wilson School's Center for Health and Wellbeing. Named for a professor at Princeton who was formerly president of Merck Vaccines, this scholarship provides outstanding Princeton students funding to pursue global health-related internships and senior thesis research. Pierre-Wright chose to study the mental health conditions of residents after Hurricane Katrina and made that the basis of her senior thesis, "Bridging the Mentally Ill with the Psychiatric Communities of New Orleans." 
In the fall of 2012, Pierre-Wright began her graduate studies at the Wilson School. As she tackled the MPA curriculum, Pierre-Wright discovered she enjoyed the challenges it presented.
"I found out that I could learn economics and statistics, and I actually liked them," Pierre-Wright said. "The memo class also was really helpful. It taught me how to write a policy paper, which I had never done before."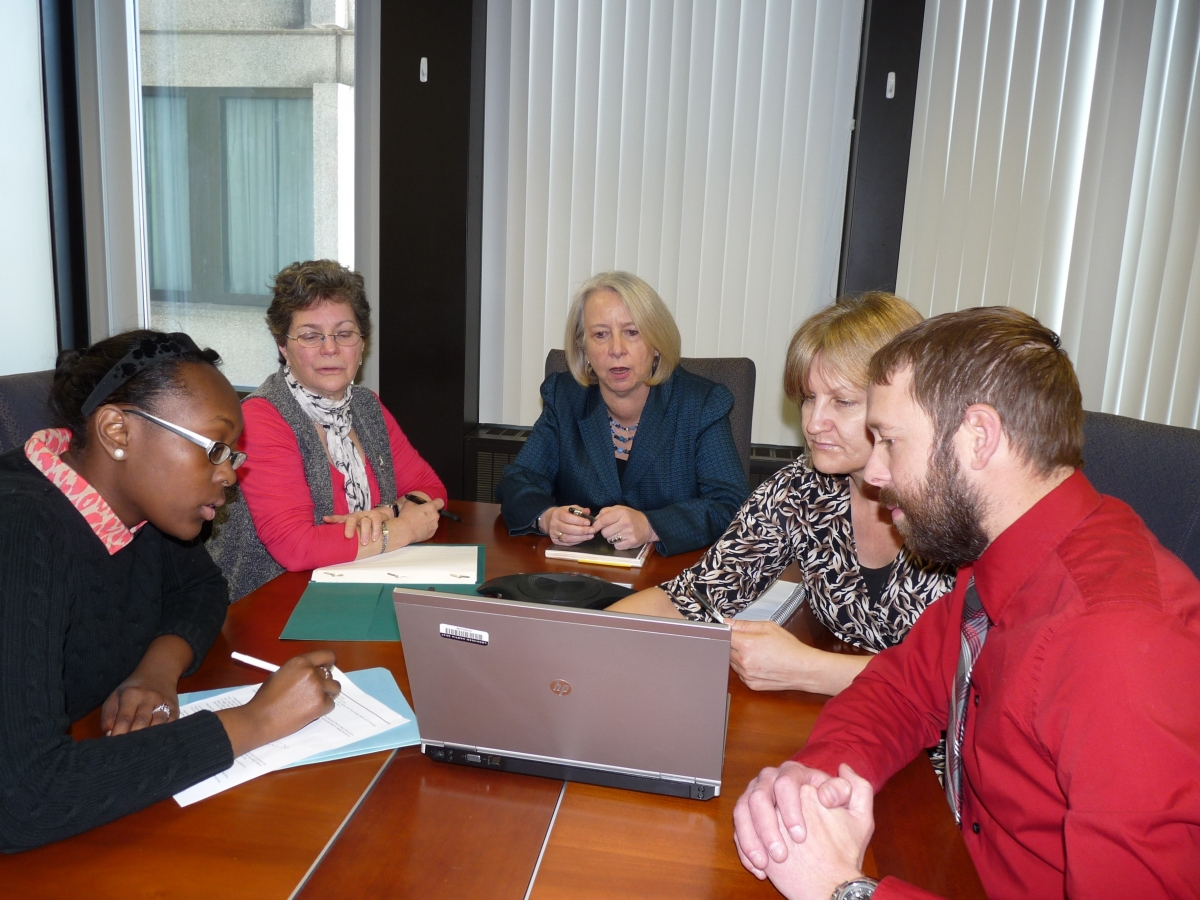 The following summer, Pierre-Wright decided to return to her work with ACF, where she remained for the next two years.
"I spent my internship and two-year fellowship with the same agency because I felt it had everything I needed, and there was enough variety," Pierre-Wright said. "I worked with three different physical offices – D.C., Boston and Philadelphia – so I still had that flexibility even though I stayed with ACF."
Pierre-Wright's initial assignment was with the Children's Bureau in the Mid-Atlantic Region. The Bureau focuses on improving the lives of children and families through programs that reduce child abuse and neglect, increase the number of adoptions and strengthen foster care. While at the Bureau, Pierre-Wright participated in a review of the Pennsylvania Child Welfare system. She helped collect the information needed for a comprehensive review of the state's adherence to federal standards as required by Title IV of the Social Security Act, which provides grants to states for aid and services to needy families with children and for child-welfare services. 
Pierre-Wright also worked with ACF's New England Region. She created educational materials regarding the Affordable Care Act, which were distributed to child care providers, homeless youth, domestic violence survivors and community action agencies. She also became involved with anti-human trafficking programs in the region.
"Working on anti-human trafficking initiatives was one of my biggest projects there," Pierre-Wright said. "I was on task force groups for the city of Boston. We'd meet with local people who were doing really innovative work on human trafficking in the area."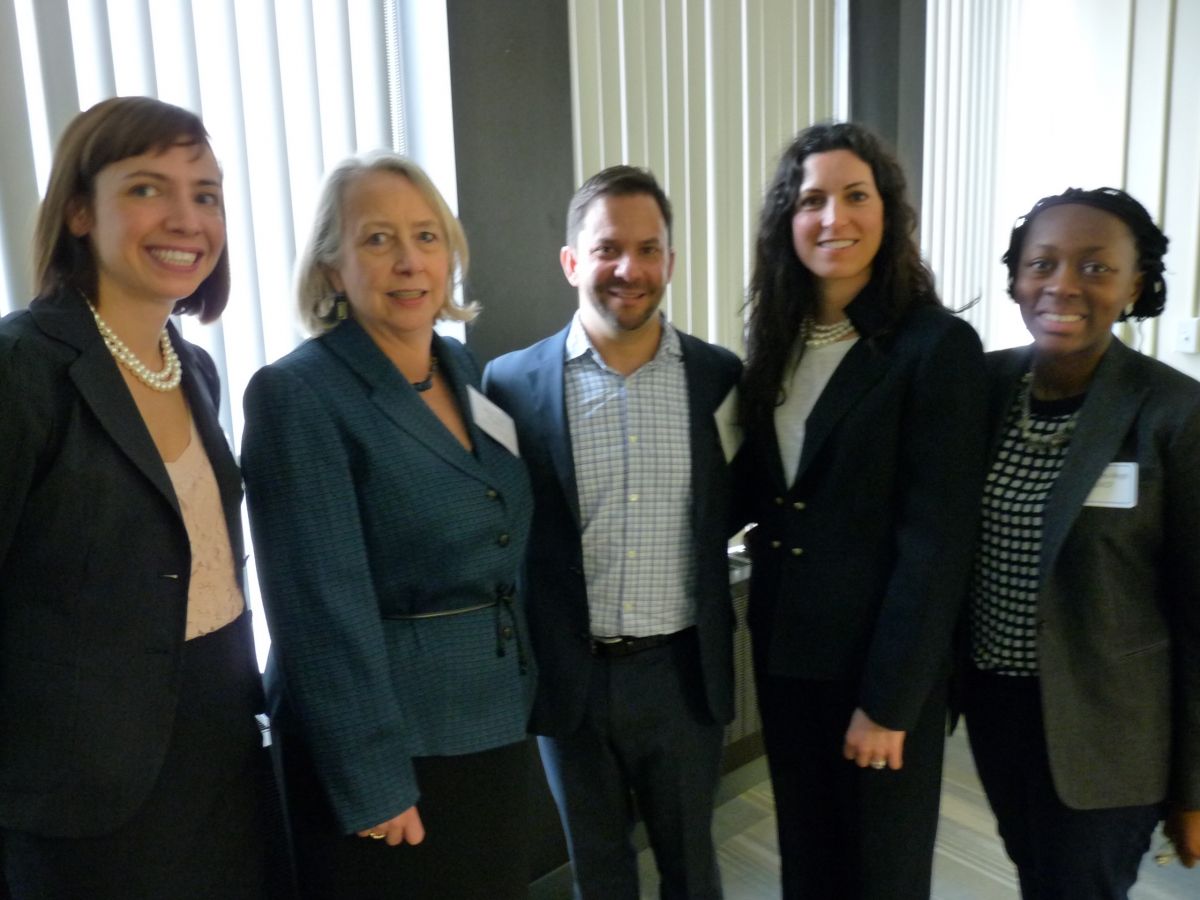 Pierre-Wright also helped coordinate an anti-human trafficking training program for federal grantees [featuring guest speaker U.S. Attorney Carmen Ortiz] and worked with other federal agencies such as the Department of Labor and Homeland Security.
"It was a lot of organizing meetings with various partners, getting the word out and supporting anti-human trafficking efforts in any way that we could," Pierre-Wright said. "I would prepare talking points for the meetings and go with my boss and engage with the attendees."
Pierre-Wright also spent several months working for the New England Region's
Office of Head Start
. Head Start's mission is to promote the school readiness of young children from low-income families through early childhood agencies in their local community. The office administers grant funding and oversight to those agencies, and Pierre-Wright was responsible for reviewing grant applications and monitoring grantees to ensure compliance with Head Start regulations.
At the conclusion of her two-year fellowship, Pierre-Wright returned to Princeton to complete her master's degree with a focus on domestic health policy. Pierre-Wright found she was able to directly apply what she had learned during her work with the ACF.
"It was nice to come back having work experience," Pierre-Wright said. "When I was in the first year of the MPA program, I didn't really understand what the federal government was about. Now, when I took a poverty class and we talked about Head Start, I realized how much I had learned. I was able to contribute a great deal to those discussions."
Pierre-Wright said she will remain dedicated to working in support of the health and well-being of others after she leaves Princeton. She takes with her wonderful memories of all that she gained through her participation in the SINSI program.
"I had the best experience," Pierre-Wright said. "I really worked with great people, and they were like family by the end. I had wonderful mentorship and great opportunities in my agency. I think SINSI is an amazing program. It changed my life."
---
The photo on the homepage shows Pierre-Wright (center) working with staff from the Department of Transportation on a joint campaign focused on educating families about how to keep babies safe, especially in the summer. (Photo courtesy of Marlise Pierre-Wright)