May 24 2022
By
Graduate Program Office
Source
Princeton School of Public and International Affairs
At an in-person ceremony Monday, May 23, 2022, in Robertson Hall's Arthur Lewis Auditorium, the Princeton School of Public and International Affairs (SPIA) awarded special annual prizes to Master in Public Affairs (MPA) and Master in Public Policy (MPP) students achieving academic excellence and demonstrating an unsurpassed commitment to public service.
Two MPA students achieved distinction on their second-year qualifying exam. Congratulations to
Caitlin Quinn

in Field I, international relations, and

McKenzie Leier

in Field II, international development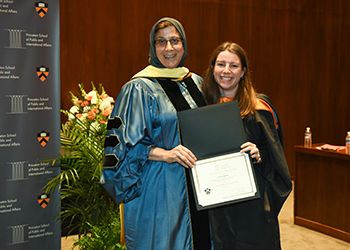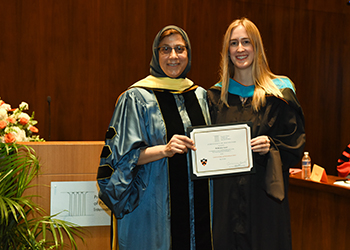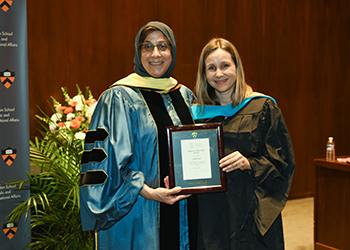 ---
The MPP Prize is for the MPP student who has achieved an outstanding academic record and demonstrated a commitment to public service. This recipient left her mark on the MPP class and the School with her academic excellence and thoughtful contributions in all seminars. The award goes to Sarah Case!
Sarah came to SPIA with more than a decade of experience leading humanitarian programs, policy, and strategy for nongovernmental and multilateral organizations. She has worked in Ecuador, Malaysia, Jordan, Iraq, Turkey, Lebanon, and the West Bank. Most recently, she worked for the International Rescue Committee in New York, where she created and led the policy and planning department. In her role, she also established a delivery unit to drive performance and ran IRC's first organization-wide innovation challenge. She also led the external analysis for IRC's centenary strategy, and was a sherpa for the World Health Organization appointed independent panel for pandemic preparedness and response. Sarah is the proud mum of two little humans! After graduation, she plans to continue working on refugee and conflict policy, with a focus on economics.
---
The Bradford Prize is awarded to the Science, Technology, and Environmental Policy student who has achieved both a distinguished academic record and a record of service to the School's Center for Policy Research on Energy and the Environment. This award is named for SPIA's late associate dean, David Bradford. David played a key role in the creation and administration of this program. The recipient of this year's Bradford Prize is Bridget Kelly!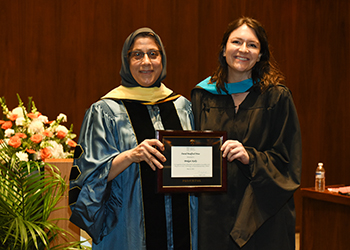 Bridget grew up in New York, where she worked on water management issues through local government while studying geography. After graduating from SUNY Geneseo, she interned with the International Water Management Institute and then joined Charity: Water, where she worked on a water sanitation and hygiene grant-making team. She spent last summer as a climate corps fellow with the Environmental Defense Fund. At SPIA, Bridget has played a significant role in service to the Center, helping to develop innovative new ways to engage MPA and MPP students in their work and research. She was a leader in creating the new environmental policy associates program. Bridget also was the first student to pilot a policy research collaboration with Princeton's Andlinger Center for Energy and the Environment, and provided extensive feedback about her experiences to help guide our work with other students. After graduation, Bridget plans to work on environmental and climate policy.
---
The Somers Prize was established by the late Anne Somers to honor the memory of her husband, the late Herman M. "Red" Somers, a former SPIA faculty member. The prize is awarded to a student with domestic policy interests who has a distinguished academic and public service record. This year's Somers Prize is awarded to Annie Yu!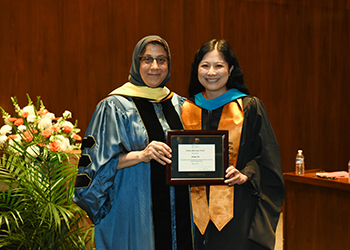 Annie studied public health and legal studies at the University of California, Berkeley, where she developed a passion for health policy. After graduating, she moved to Washington, D.C. to work for the American Lung Association and conducted policy research to support initiatives improving Medicaid coverage and access to care. Before coming to SPIA, Annie worked at Acumen, LLC, where she analyzed the impacts of regulatory and legislative policy changes on Medicare services. While at SPIA, she continued to pursue her passion for health policy, working at the United States of Care as a summer intern. Annie served as a community service co-chair for the SPIA graduate student government, where she and her team organized service opportunities for classmates and co-chaired the annual Service Auction. After graduating, Annie will be joining United States of Care, where she will continue to work to advance health equity for all.
A brand-new award for 2022 aligns with one of Dean Amaney Jamal's top priorities for the School — the inaugural Diversity, Equity, and Inclusion Service and Leadership Award.
This award recognizes exemplary student leadership, initiative, dedication, and advocacy on issues of diversity, equity, inclusion (DEI). The award is fully student nominated, and submissions were evaluated based on excellence in leadership and a deep sense of service. The co-winners are social justice leaders whose work touched the lives of many of their peers, including students with historically marginalized identities, students of color, queer and trans students, women, students with disabilities, and first-generation and low-income students. Congratulations to Guillermo Herrera Nimmagadda and Nausheen Rajan!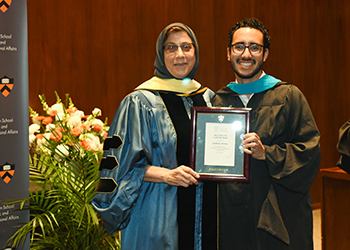 Guillermo was born and raised in Miami, Florida, in an Ecuadorian-Nicaraguan family. He graduated from Miami Dade College with an Associate of Arts and from Johns Hopkins University with a Bachelor of Arts in International Studies. Before coming to SPIA, his career centered on the effects and openness of government budgets. At the Center on Budget and Policy Priorities, he advocated for fiscal policies that improve the livelihoods of low-income communities in the U.S. Later, at the International Budget Partnership, he collaborated with civil society, government, and international organizations to promote transparent, accountable, and participatory budgets. Last summer, he interned for the United Nations and supported the creation of a strategic action plan to combat racism. At SPIA he worked through both years as a DEI representative, was elected to be a member of the DEI Standing Committee, and worked as co-chair of Students and Alumni of Color.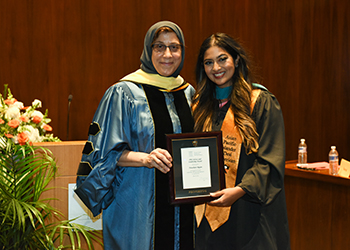 Nausheen has bachelor's degrees in international studies and Asian studies, and is a 2015 alumna of the Junior Summer Institute here at Princeton. She currently works as a data, analytics, and impact fellow for the New Jersey State Office of Innovation. Her work focuses on identifying and measuring key performance indicators through quantitative and qualitative analysis. Prior to SPIA, Nausheen worked as a senior associate at Chemonics International, where she provided project management and business development support for USAID-funded projects. In 2020, she co-founded Ismailis Rise Up, to increase organizing efforts around voter participation and civic engagement within the Ismaili Muslim community. Last summer, she was awarded the Harold W. Rosenthal Fellowship by the U.S. Department of Labor. At SPIA, she has served as DEI representative and first-gen representative, co-chair for Students and Alumni of Color, and co-chair for FIRST+.
---
The Stokes Prize recognizes both academic achievement and public service leadership, and is awarded to the graduating MPA student whose achievements best exemplify the life and work of the late Donald E. Stokes, who was dean of the School from 1974 until 1992. During his long years of service, Dean Stokes came to symbolize everything that is superb about the School. This year's truly remarkable class resulted in three winners of the Stokes Prize: Emily Audet, Daisy Nashipai Mepukori, and Amina Johari!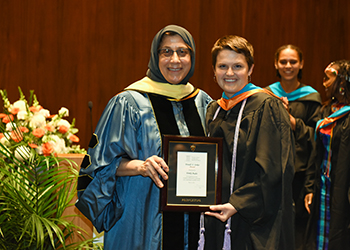 Originally from a small town in Connecticut, Emily graduated from Scripps College with a degree in environment, economics, and politics. She then joined AmeriCorps for a year and worked with the Los Angeles County Department of Public Health, to augment the department's capacity to address the health impacts of climate change. Before joining SPIA, she participated in the Sacramento State's judicial fellowship in court administration. Last summer, Emily interned with the New Jersey Economic Development Authority. Emily also served as the curriculum co-chair for SPIA's graduate student government and advocated for curricular issues on behalf of her classmates. Emily is passionate about equitable governance, especially in relation to the environment and climate change. She plans to pursue a career in public service at the state or local level.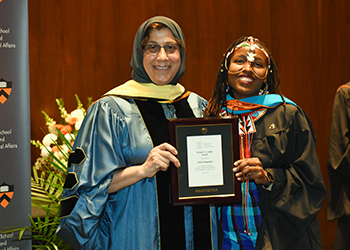 Daisy, known as Nash, is originally from Nairobi, Kenya. She earned a bachelor's degree from Duke University with a double major in global health and international comparative studies. She is passionate about strengthening health systems to enable people in low- and middle-income countries to live longer, healthier, more productive lives. Before coming to SPIA, she worked at Global Health Strategies, where she played a central role in building up the organization's presence in East Africa. At SPIA, she concentrated in international development and earned a certificate in Health and Health Policy. Nash describes herself as a "passionate feminist and women's rights activist." Appropriately, she was one of three co-chairs of the students' Gender and Policy Network. Last summer, she completed her MPA internship with the Global Fund. Her goal is to lead Kenya's Ministry of Health.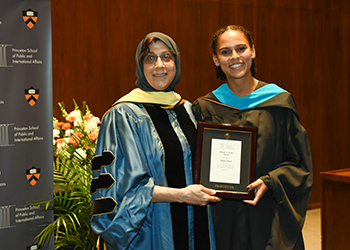 Amina was born in Kenya but spent most of her childhood in the Northeast U.S. She received a bachelor's in international affairs, with concentrations in conflict resolution and international development, from George Washington University. Following graduation, she worked at the Department of State's Foreign Service Institute in the political training division, supporting the Department's negotiations courses. Later, Amina joined the Peace Corps and served as a secondary school teacher in southern Tanzania. At SPIA, as co-chair of Students and Alumni of Color, she organized the fall retreat and the spring symposium for two consecutive years. Last summer, she interned at Abt Associates, where she supported the implementation of USAID projects across the African continent. Amina has accepted a permanent position at Abt as a project manager on the East, Central, and Southern Africa team. Having personal ties and extensive experience in sub-Saharan Africa, she hopes to continue dedicating her career to issues of relevance to the region, particularly education and climate adaptation.