May 04 2023
Source
Princeton School of Public and International Affairs
Dedicated space in the nation's capital gives faculty, students, alumni unprecedented teaching, research, and engagement opportunities and influence
The Princeton School of Public and International Affairs has long had a significant presence among and within the three branches of the federal government.
Now the School has a zip code and office space – and a bold new outlook – to go with it.
SPIA has leased space just off Dupont Circle in Washington, D.C., to be used for a variety of educational, public-affairs, and engagement purposes. It marks the first time the School has established a permanent physical presence in the nation's capital.
"Actually being in Washington, the center of policymaking in the country, will enable us to connect faculty members, researchers, and students directly with policymakers in ways we haven't previously," said SPIA Dean Amaney Jamal.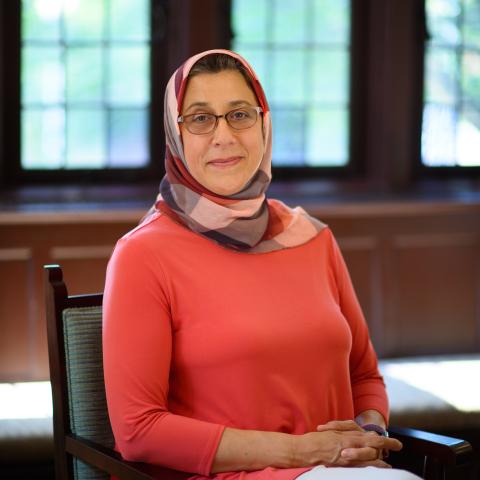 — Amaney Jamal, Dean, Princeton School of Public and International Affairs
"This initiative gives us an unprecedented opportunity to advance our mission of service to the nation and humanity."
SPIA in D.C. is one of the strategic priorities identified by Jamal when she became dean in the fall of 2021. The program was born in part, she recalled, from her own experience having to build a network in Washington during her 20 years as a Princeton politics faculty member and researcher.
"The School is not like any other policy school in the country," Jamal said. "Ninety-nine percent of our faculty are jointly appointed with other departments. We have the most outstanding economists, sociologists, political scientists, etc., teaching our students. Because of this, they aren't naturally connected to policy makers; they haven't gone through the process of compiling their own networks of policy makers and influencers. It's imperative that we as a school think about how we help our faculty make these linkages."
According to representatives of SPIA's 20 centers and programs, the site offers opportunity and great value for students and faculty to interact in a real-world setting outside of the Princeton campus. They also look forward to hosting meetings and events, engaging with policymakers and partners, and expanding professional networks.
Alan Blinder, the Gordon S. Rentschler Memorial Professor of Economics and Public Affairs and a member of the planning committee for the May 10 SPIA in D.C. launch, has considerable experience in Washington. He served as vice chairman of the Board of Governors of the Federal Reserve System and as a member of President Bill Clinton's Council of Economic Advisers. Blinder noted that the initiative will help to connect two groups that can learn from each other.
"There are lots of possibilities for collaboration between Princeton faculty, who tend to be deeper and more academic, as they should, and think tankers, who tend to have their feet on the Washington ground better, as they should," he said. "Cross-fertilizing that will add value to both."
Todd Bristol, the School's acting associate dean of public affairs and communications, noted both the symbolic and practical impacts of SPIA's expansion to the District.
"The School of Public and International Affairs could not be more excited to plant our flag in Washington," he said. "This is a physical manifestation and extension of the influence SPIA has had here for decades."
For example, Bristol said, the co-directors of the School's Scholars in the Nation's Service Initiative (SINSI) already spend a significant amount of their time in Washington. A dedicated office and meeting space will greatly facilitate their work with SINSI students pursuing graduate fellowships and undergraduate summer internships within the U.S. federal government.
SPIA plans to use the space for both formal and informal alumni gatherings, networking, and other career-related activities. In addition, the site will host events for prospective graduate students, facilitate communication between local alumni and applicants, and host recruitment and other informational meetings with local organizations and visiting delegations.
"Twenty-eight percent of SPIA's graduate alumni and 17 percent of our undergraduate alumni are in the Greater Washington area," Jamal said. "In terms of career placement, our alumni network is one of our most valuable resources to students. To have a dedicated space for students to meet with alumni to network is extremely important."
The site of SPIA in D.C. comprises more than 6,700 square feet of office space that includes conference room, offices, a reception area, and a pantry/kitchen, as well as an open area of 600-plus square feet for gatherings and events. There is also a shared rooftop amenity area, with spectacular views of downtown Washington, featuring indoor and outdoor spaces that can accommodate almost 490 people for larger gatherings, events, and convenings.
"It looks like a wonderful home base in Washington," said Janet Currie, the Henry Putnam Professor of Economics and Public Affairs and co-director of the Center for Health and Wellbeing, who travels to the capital often. "I'm sure I will use it when I'm in town for meetings or to meet with policy makers."
SPIA in D.C. launches officially with an invitation-only event May 10. The site has already hosted numerous private School gatherings, including receptions, planning meetings, several student visits, and meeting of the Public Affairs Committee of University's Board of Trustees.
A host of public events are planned for the months to come. These include annual meetings of some of the School's centers and programs, an MPP alumni lunch, presentations and panel discussions, and a conference on the 50th anniversary of the 1973 oil crisis.
"We have remarkable intellectual talent at SPIA," Jamal said. "SPIA in D.C. will enhance our strategies for communicating research to inform national policymaking at all levels of governance, as well as augmenting the public policy training we provide for our students."
Jamal sees the move as a natural extension of the progress the School of Public and International Affairs has made in recent years.
"SPIA has accomplished much over the last few decades," she said. "I was lucky to become dean of a school where a lot of benchmarks and target points have been met, so I could think more creatively about what's next. It's an opportune time to think about what we can do next."