May 30 2023
Source
Princeton School of Public and International Affairs
The day before Commencement, five graduating master's students in the School of Public and International Affairs and 11 graduating bachelor's degree students were honored with awards and prizes at respective gatherings of their classmates.
At the Hooding and Awards Ceremony, held Monday morning, May 29, in McCarter Theater, SPIA recognized its MPP and MPA graduates. Five honors were presented: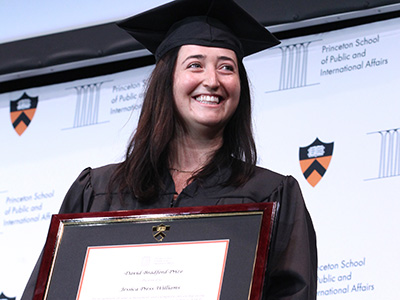 The Bradford Prize, awarded to the Science, Technology, and Environmental Policy student who has achieved both a distinguished academic record and a record of service to the STEP program, was awarded to Jessie Press-Williams. The award is named for SPIA's late associate dean David Bradford, who played a key role in the creation and administration of this program.
Press-Williams, of Charlottesville, Virginia, graduated with a degree in mechanical engineering from MIT, where she also focused on international development. After graduating, she worked in Zambia on a major sanitation rehabilitation project. Immediately before coming to Princeton, Press-Williams lived in Ghana working as a program officer at an NGO dedicated to improving water and sanitation outcomes for poor and vulnerable populations. 
At SPIA, she concentrated in Field II, International Development, and she served as the STEP representative to the Princeton University Policy Student Government (PUPSG). Press-Williams interned last summer at the Department of State, in the Bureau of Oceans and International Environmental and Scientific Affairs.
Press-Williams co-founded the Climate Club to provide a space for students interested in environmental policy issues to connect and learn about opportunities at Princeton, and she was one of the student leaders behind the Center for Policy Research on Energy and the Environment's Environmental Policy Associates program. She played a crucial role in some of the most important STEP-related activities over the past year, including the Climate 101 Workshop, sending students to attend COP27, and the environmental policy career trek to Washington, D.C.
"Jessie was always collaborative in her leadership approach," said Keely Swan, C-PREE's assistant director. "Her contributions to C-PREE and the SPIA community have been truly exceptional. Her efforts beyond the classroom have had a tremendous impact on STEP and C-PREE."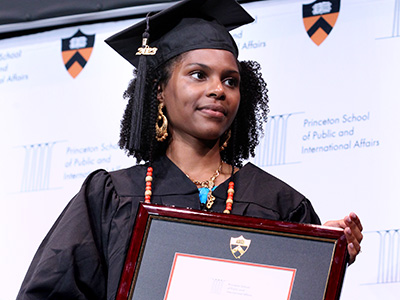 The Diversity, Equity, and Inclusion Leadership and Service Award, recognizing exemplary student leadership, initiative, and advocacy for issues of diversity, equity, and inclusion, was presented to Rougiuatou Diallo. The award is fully student-nominated, and submissions were evaluated based on excellence in leadership, and a deep sense of service.
Before coming to SPIA, Diallo was chief of staff at Resilient Coders, a workforce development organization that trains people of color from Boston's low-income communities for high-growth careers as software engineers and connects them with jobs. she earned a bachelor's in political science and government from McGill University.
Last summer, Diallo served as a Community Organizing Fellow at the Women in Informal Employment: Globalizing and Organizing (WIEGO), a worldwide network focused on empowering the working poor, especially women, in the informal economy to secure their livelihoods. She spent time in Dakar, Senegal, where she engaged with the challenges of informal workers and the formalization of policy space.
At SPIA, Diallo served as a co-chair of the Students and Alumni of Color student organization.
"Our DEI team has had the privilege to work closely with her on two signature SAOC events, and her incredible work ethic, professionalism, and passionate dedication to this work made her an incredible partner," said Rayna Truelove, associate dean of diversity, equity, and inclusion.
Among many glowing comments from nominators, Diallo's peers described her as "clearly committed to this community and to ensuring there is a space for everyone here at SPIA. Her radical love for this community was infectious."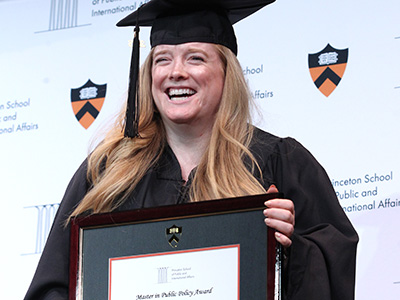 The MPP Prize, awarded to the Master in Public Policy student who has achieved an outstanding academic record and demonstrated a commitment to public service, was given to Emily Conron.
Conron was praised as a passionate advocate for global health, science, and innovation, with a decade of experience in policy and resource mobilization. She developed her interest in global health and development as an undergraduate at the University of Notre Dame, where she first discovered and pursued her passionate interest in Neglected Tropical Diseases (NTDs). Before coming to SPIA, Conron worked with the Sabin Vaccine Institute's Global Network for NTDs; for World Vision United States; and with the Global Health Technologies Coalition, where she drove the launch of the Bipartisan Global Health Research and Development Congressional Working Group.
At SPIA, Conron concentrated in Field II, International Development. She took a very challenging set of courses at the intersection of international relations, international development, ethics, health, and philanthropy, and she achieved an outstanding academic record. Conron contributed to the SPIA community with her extraordinary attendance at the weekly MPP Forums, where her own presentation was one of the most intentional and effective in integrating her professional experience with new insights and intellectual challenges from her coursework.
"Emily is an exceptional student who demonstrated leadership, engagement and a deep commitment to public service through her participation in this seminar," said one SPIA faculty member. "Her contributions were invaluable; her energy and enthusiasm, infectious and inspiring."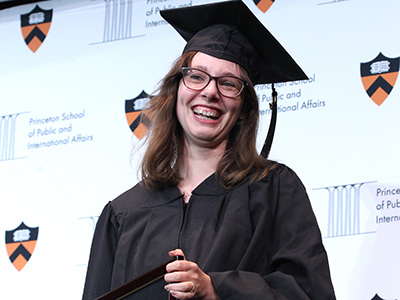 The Somers Prize, established by the late Anne Somers to honor the memory of her husband, the late Herman M. "Red" Somers, a former SPIA faculty member, was awarded to Haley Lemieux. The prize is awarded to a student with domestic policy interests who has a distinguished academic and public service record.
Originally from Maryland, Lemieux attended the University of Oxford and graduated in 2017 with a degree in philosophy, politics, and economics. She started her career working in San Antonio, helping to build the capacity for the Eastside Promise Zone to evaluate and monitor its community impact. She went on to work for the City of San Antonio, most recently as a senior economic development specialist helping to revise their tax incentive guidelines from an equity perspective.
At SPIA, Lemieux concentrated in Field III, Domestic Policy, with outstanding academic performance. She earned rare A+ grades in both of her statistics courses. Kathryn Edin, the William Church Osborn Professor of Sociology and Public Affairs, and co-director of the Center for Research on Child Wellbeing, praised her performance in her Poverty and Social Policy course. 
"Haley's final paper was rich, detailed, carefully researched, and extraordinarily insightful," Edin said. "It is rare that I read a paper I can't see a way to improve upon. This was one of those papers."
Lemieux co-chaired PUPSG in 2022, advocating forcefully and effectively on behalf of her classmates, most notably for greater access to tutoring for quantitative courses for all those students who expressed interest. She herself was a popular statistics tutor for MPA1s this year.
Last summer, Lemieux interned with the New Jersey Office of the Governor to work on policy issues. She plans to pursue a career focused on reducing urban inequality and advancing economic opportunity.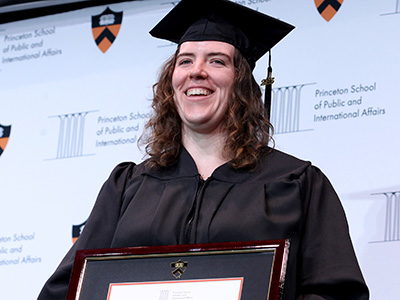 The Stokes Prize, recognizing both academic achievement and public service leadership, went to Tracy Pierce. The prize is awarded to the graduating MPA student whose achievements best exemplify the life and work of the late Donald E. Stokes, who was dean of the School from 1974 until 1992. During his long years of service, Stokes came to symbolize everything that is superb about the School.
Originally from Emmett, a village in rural Michigan, Pierce studied economics and English at Michigan State University, then joined Teach for America and taught high school math. After teaching for three years in Detroit, she moved to Chicago, where she served on the staff of Teach for America and volunteered as a college access mentor. Last summer she returned to Detroit for her required summer internship, working with the Diploma Equity Project.
Pierce compiled a perfect academic record at SPIA, and added to this extraordinary feat by earning distinction on the first year Qualifying Exam (QE1), in May 2022, and then earlier this month, earning high distinction on the second year Qualifying Exam (QE2). Earning both honors is rare, and it occurs only about three times a decade.
As part of SPIA's student government, Pierce served as one of two curriculum co-chairs in 2022, advocating passionately and persistently on behalf of the interests of her classmates. Her policy workshop instructor praised her strong project management skills and her highly collaborative leadership style, which supported the overall team success.
Pierce intends to build a career in educational policy and is passionate about efforts to equalize school funding, to invest in post-secondary readiness programs, and to extend opportunity to children in under-resourced urban and rural communities. After graduation, she will join the HKS Government Performance Lab Fellowship in Michigan.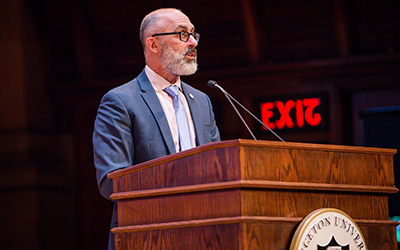 That afternoon, at SPIA's Class Day ceremony, graduating seniors gathered in Richardson Auditorium for the awarding of thesis and departmental prizes. Paul Lipton, SPIA's senior associate dean for academic administration, noted the depth and breadth of the winners' work.
"The senior thesis, as our graduates know all too well, is a demanding rite of passage," Lipton said in his introductory remarks. "Here at SPIA, the variety of thesis topics is as broad as our graduating class is large. One look at the Class Day booklet and, if you had a chance to see the slides that were playing as you walked into this auditorium, the 115 thesis titles tells the story of the richness of the SPIA curriculum and the range of interests of our students and faculty."
---
Prizes Awarded By Other Programs
Beth N. Rom-Rymer, Class of 1973, Senior Thesis Prize in Global Health and Health Policy
Awarded by the Global Health Program to the student who has written the best senior thesis on the topic of Global Health and Health Policy
Winner: Nannette Beckley, "Community Violence and Postpartum Depression: Associations and Potential Intervention Strategies" (Alyssa Sharkey, advisor)
---
Montgomery Raiser '92 Senior Thesis Prize
Awarded by the Program in Russian, East European and Eurasian Studies for best thesis in Russian and Eurasian Studies
Winner: Margaret Commander, "Up in Arms: The Consequences of Globalization on the Russian Defense Industry" (Mark Beissinger, advisor)
---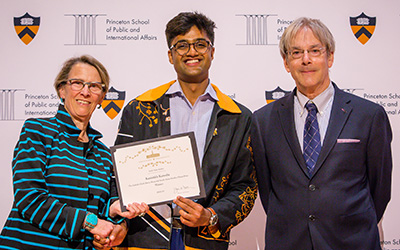 Isabelle Clark-Decès Memorial South Asian Studies Thesis
Awarded by the Program in South Asian Studies for the best thesis related to South Asia
Winner: Kanishkh Kanodia, "Beyond Norm-Takers or Norm-Breakers: India and China's rhetorical engagement with the norm of sovereignty at the United Nations Security Council between 1971-1992" (John Ikenberry, advisor)
---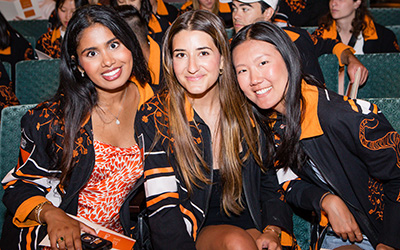 Willard Thorp Thesis Prize
Awarded by the Effron Center for the Study of America for the most outstanding thesis of a clearly interdisciplinary nature
Winner: Susan Baek (pictured on the right), "What It Means to Be 'Asian American' in New York City: An Interview-Based Study of an Evolving Political Category" (Tanushree Goyal, advisor)
---
Environmental Studies Senior Thesis Prize
Awarded by the High Meadows Environmental Institute recognizes a senior in the Certificate Program in Environmental Studies who has written an outstanding thesis in the broad area of environmental studies
Winner: Calif Chen, "Building Equitable Outcomes, BRIC by BRIC: Investigating Barriers to Coastal Resilience Funding Faced by Disadvantaged Communities" (Michael Oppenheimer, advisor)
---
SPIA Thesis Awards
Richard H. Ullman Prize
Awarded to the senior who writes the best senior thesis on a subject with foreign policy implications for the United States
Winner: Annabelle Mauri, "Violence Entrepreneurs in a Phantom State: The Drivers of Gang Evolution in Haiti since Aristide" (Jennifer Widner, advisor)
---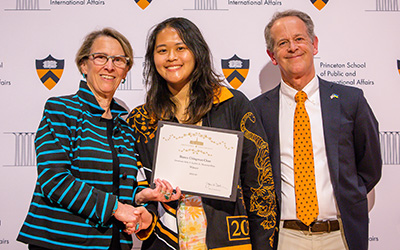 Lieutenant John A. Larkin Memorial Prize
Awarded to the senior who writes the best thesis in the field of political economy or on a broadly interdisciplinary subject in which economics plays the most important part
Winner: Bianca Chan, "Does Money Buy Discretion? Chinese Media Investment in Belt and Road Countries" (Martin Flaherty, advisor)
---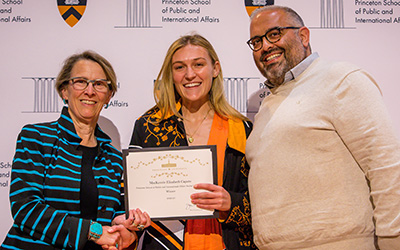 School of Public and International Affairs Thesis Prize
Awarded to a senior who writes the best thesis on social or racial justice
Winner: MacKenzie Caputo, "The Surviving Sentiment: An Exploratory Analysis of Qualitative Data on Sexual Assault Survivors" (Shamus Khan, advisor)
 
---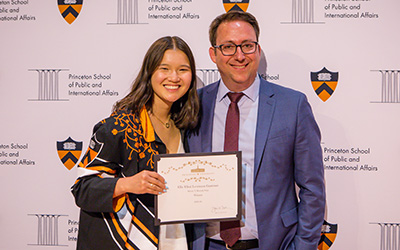 Myron T. Herrick Prize
Awarded to the writer of the best senior thesis in the School of Public and International Affairs
Winner: Ella Gantman, "Detaining Democracy: An Investigation of Jail-Based Disenfranchisement in New Jersey Jails" (Udi Ofer, advisor)
---
SPIA Departmental Awards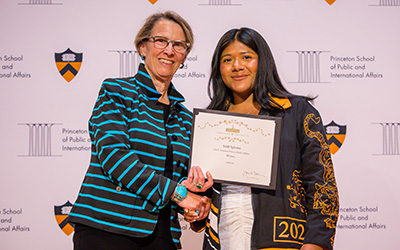 Gale F. Johnston Prize in Public Affairs
Awarded to the senior who has shown progressive excellence, scholarly growth, and leadership
Winner: Axidi Iglesias
---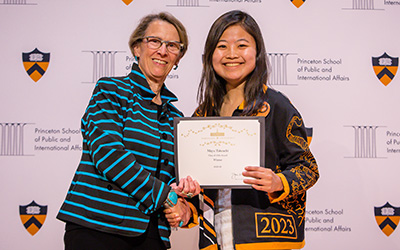 Class of 1924 Award
Awarded to a senior who has made an outstanding contribution to a Junior Policy Task Force as a senior commissioner
Winner: Mayu Takeuchi
---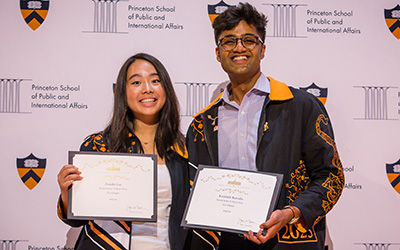 Donald E. Stokes Dean's Prize
Awarded to the senior who has displayed extraordinary leadership and made the most significant contribution to the Undergraduate Program and to the School
Winners: Kanishkh Kanodia and Jen Lee