Sep 29 2021
Other Researchers
Rafaela Dancygier
Douglas Massey
Filiz Garip
Source
Princeton School of Public and International Affairs
Thousands of Haitian migrants flocked to Del Rio, Texas, in recent weeks to attempt border crossing into the U.S. Since then, the Department of Homeland Security (DHS) and Mexico have loaded more than 300 planes with migrants, sending Haitians back to the war-torn country.
Labeling the situation as "inhumane," some are pointing a strong finger at the Biden administration, which is using a policy known as Title 42 as a justification to deport Haitian migrants. This policy was first enacted in 2020 to reduce the spread of COVID-19.
We discussed the situation with experts at the Princeton School of Public and International Affairs.
Rafaela Dancygier

is professor of politics and international affairs. Her research examines how social and economic divides interact with party politics and shape electoral alignments and political conflict in Europe and the United States.
Filiz Garip

is professor of sociology and public affairs. Her research lies at the intersection of migration, economic sociology, and inequality.
Doug Massey

is the Henry G. Bryant Professor of Sociology and Public Affairs. His research focuses on international migration, race and housing, discrimination, education, urban poverty, stratification, and Latin America, especially Mexico.
Q. What is your reaction to the deportation of 2,000 Haitian migrants who were trying to cross the border in Texas?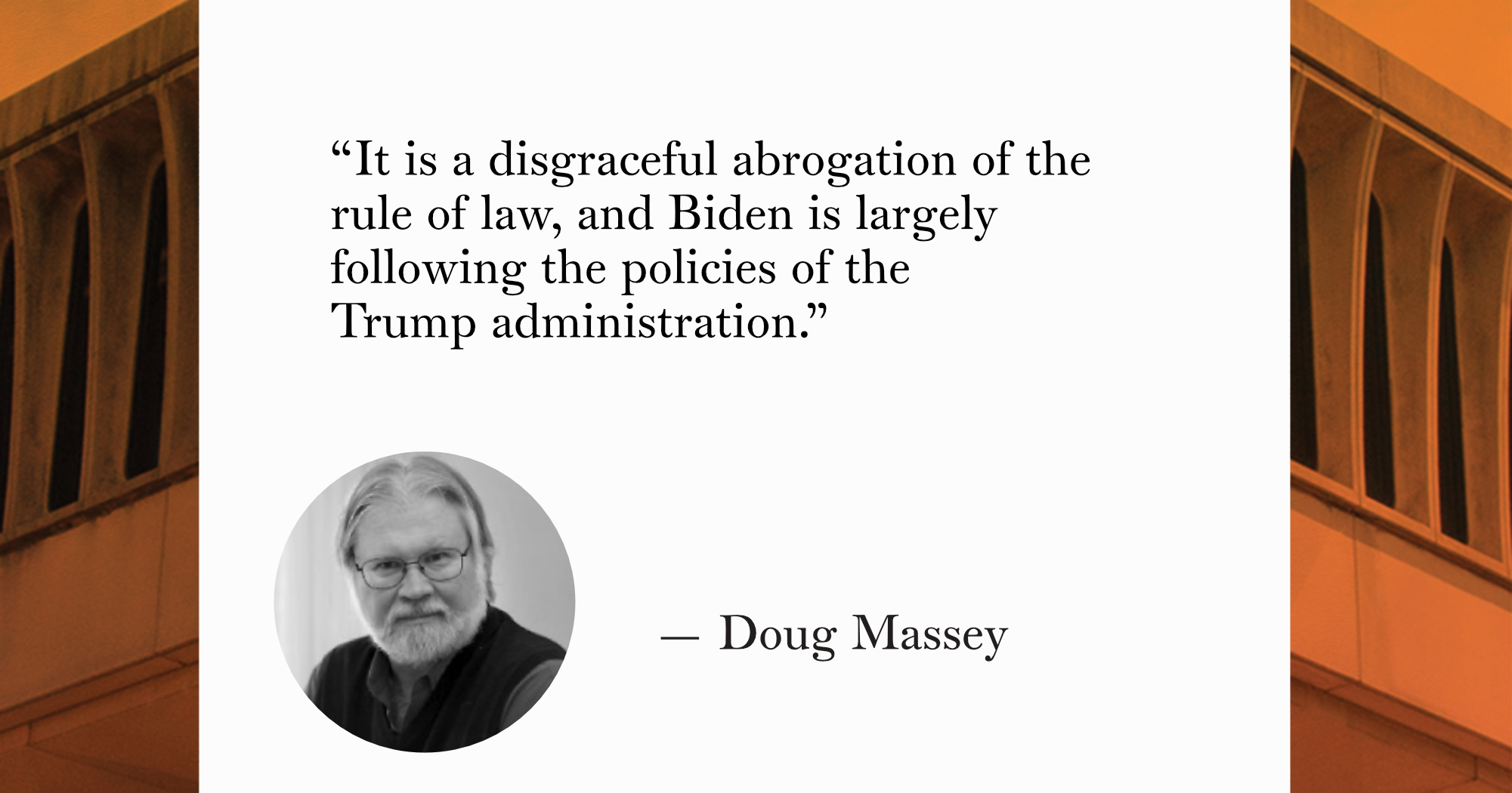 Garip: The deportation of Haitians is not well-aligned with President Joe Biden's pledge to adopt a more humanitarian approach to immigration than the previous administration. But the question of asylum is complicated. The majority of Haitian migrants have arrived at the U.S. border after living and working in other Latin American countries (like Brazil and Chile) for years after the 2010 earthquake in Haiti. Those who are firmly resettled in another country are not eligible for asylum in the United States unless they can prove that they were experiencing violence there. That said, international law still requires that people be screened properly to ensure whether they have a reasonable claim to fear returning home. The United States would be in violation of this law if those deported were not given the opportunity to make their case.

Dancygier: Many Haitians had hoped that Biden would be more sympathetic to their cause than President Donald Trump, in part because Biden granted Temporary Protected Status to Haitians who were already in the U.S. In granting that status, the Biden administration is acknowledging that the situation in Haiti is grave and that return is unsafe. Yet, it's also not allowing Haitians at the border to even get a hearing or file an asylum claim. It's not illegal to seek asylum, so the Biden administration's talking point of deporting illegal migrants is misleading. It's also important to note that Biden is continuing not only Trump's restrictive policies, but also those of President Barack Obama, who also deported large numbers of Haitians at the Texas border.  
Recently, the Biden administration has been letting some refugees in, hinting at a moderation of the initial hardline stance. The horrific images of the Border Patrol chasing Haitians on horseback likely contributed to this shift. As with the stance on the refugee admissions cap (which I explain below), the Biden administration seems to only commit to helping refugees when faced with significant public backlash.
Massey: The United States is violating its own laws by not granting migrants who arrive at the border seeking asylum a hearing to adjudicate their requests, as is their right under U.S. law. Both Haitians and Central Americans have a right to present themselves at ports of entry along the border to request an asylum hearing and be let into the country pending that hearing. This is known as an affirmative asylum request. However, they are being turned away to languish in Mexico. When they cross the border without inspection, and then request asylum after apprehension, it is known as defensive asylum, since they are defending themselves from being sent back to threatening circumstances in their countries of origin.
Q. What might happen to the thousands of migrants who have been apprehended?
Garip: About 12,400 Haitian migrants have been placed in immigration removal (deportation) proceedings and are waiting to have their cases heard by an immigration judge. They can be granted asylum if they can prove that they are facing persecution back home. These migrants, unfortunately, do not qualify for a recent program that gave temporary relief from deportation to about 150,000 Haitians residing in the United States (as of July 29, 2021) given the security and political concerns in the country.
Q. Daniel Foote, former U.S. Special Envoy for Haiti, recently resigned, calling the Biden administration's response "inhumane" and "counterproductive." Do you agree?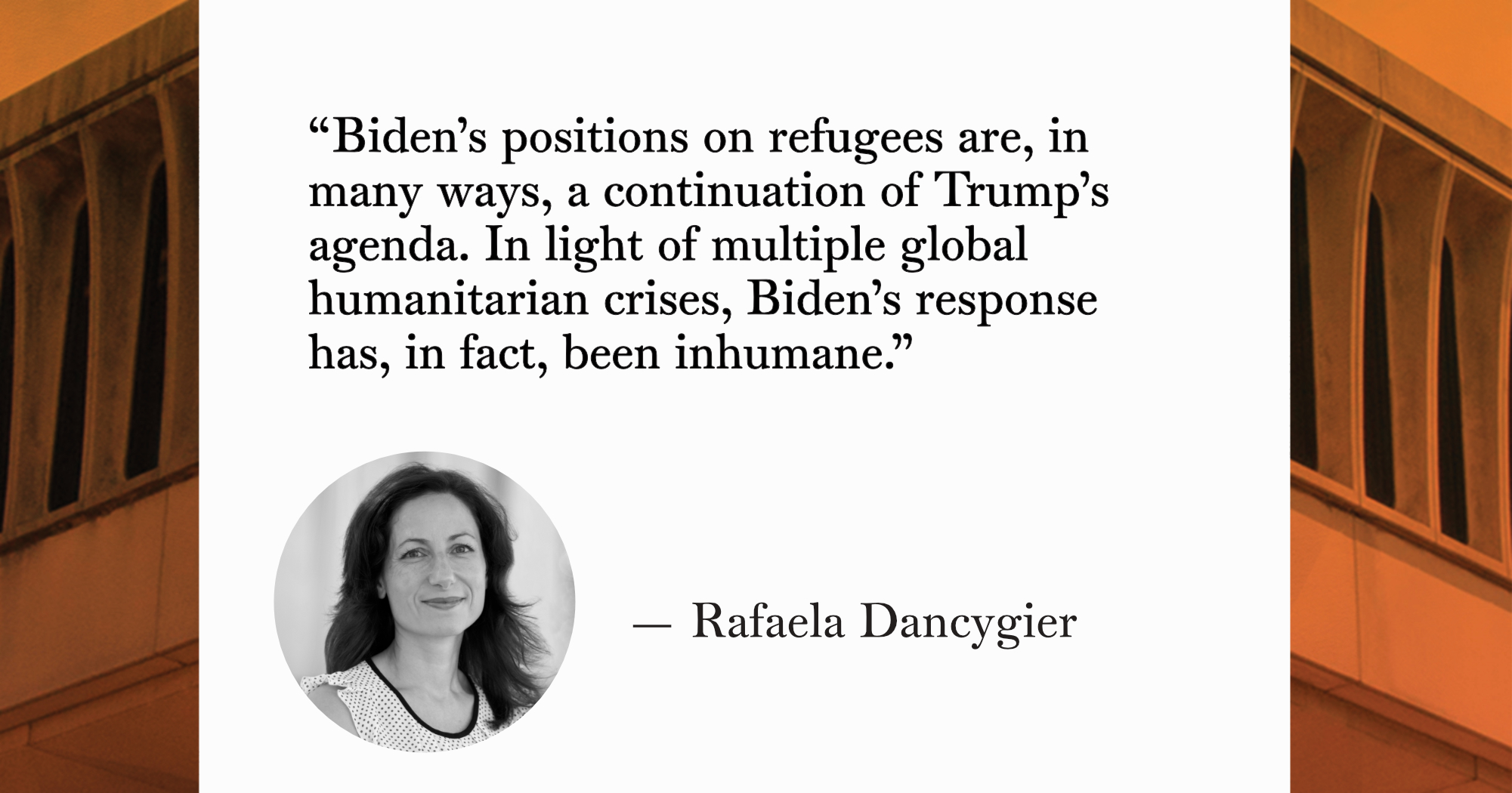 Dancygier: Biden's positions on refugees are, in many ways, a continuation of Trump's agenda. Biden's lack of commitment to Afghan refugees when the country fell to the Taliban was striking and a big disappointment to many of those who voted for him. Biden also was very slow to raise the historically low refugee admissions cap of 15,000, which was enacted during Trump's presidency. It was only after significant political pushback that the Biden administration increased the admissions cap to 62,500 for 2021. But, because resettlement agencies remain woefully understaffed due to cuts during the Trump years, only a small fraction of this number have been admitted. In light of multiple global humanitarian crises, Biden's response has — in fact — been inhumane. Biden set a target of 125,000 for next year. Unless his administration significantly expands staffing at the government agencies and nonprofits in charge of resettling refugees, the United States' response to current crises will continue to be inhumane.
Garip: I think the response is un-doing the administration's earlier efforts to establish kinder and more welcoming immigration policies — such as extending temporary relief to Haitians already here and increasing the number of refugees to be admitted. It also is setting a bad example to countries that are facing a surge in immigration, like Iran and Pakistan due to the U.S. withdrawal from Afghanistan, or those that are currently hosting millions of refugees, like Jordan, Lebanon, and Turkey due to the Syrian conflict.
Massey: By turning migrants away at border crossings, the U.S. is compelling migrants to become "illegal migrants" in order to get their requests heard. When it summarily deports them without hearing their defensive asylum request, it once again is violating both U.S. and international law as specified in treaties the U.S. has signed. It is a disgraceful abrogation of the rule of law, and Biden is largely following the policies of the Trump administration. The war on immigrants has been a bipartisan endeavor supported by Democratic and Republican administrations since the early 1990s.
Q. In your opinion, what could or should be done in this scenario?
​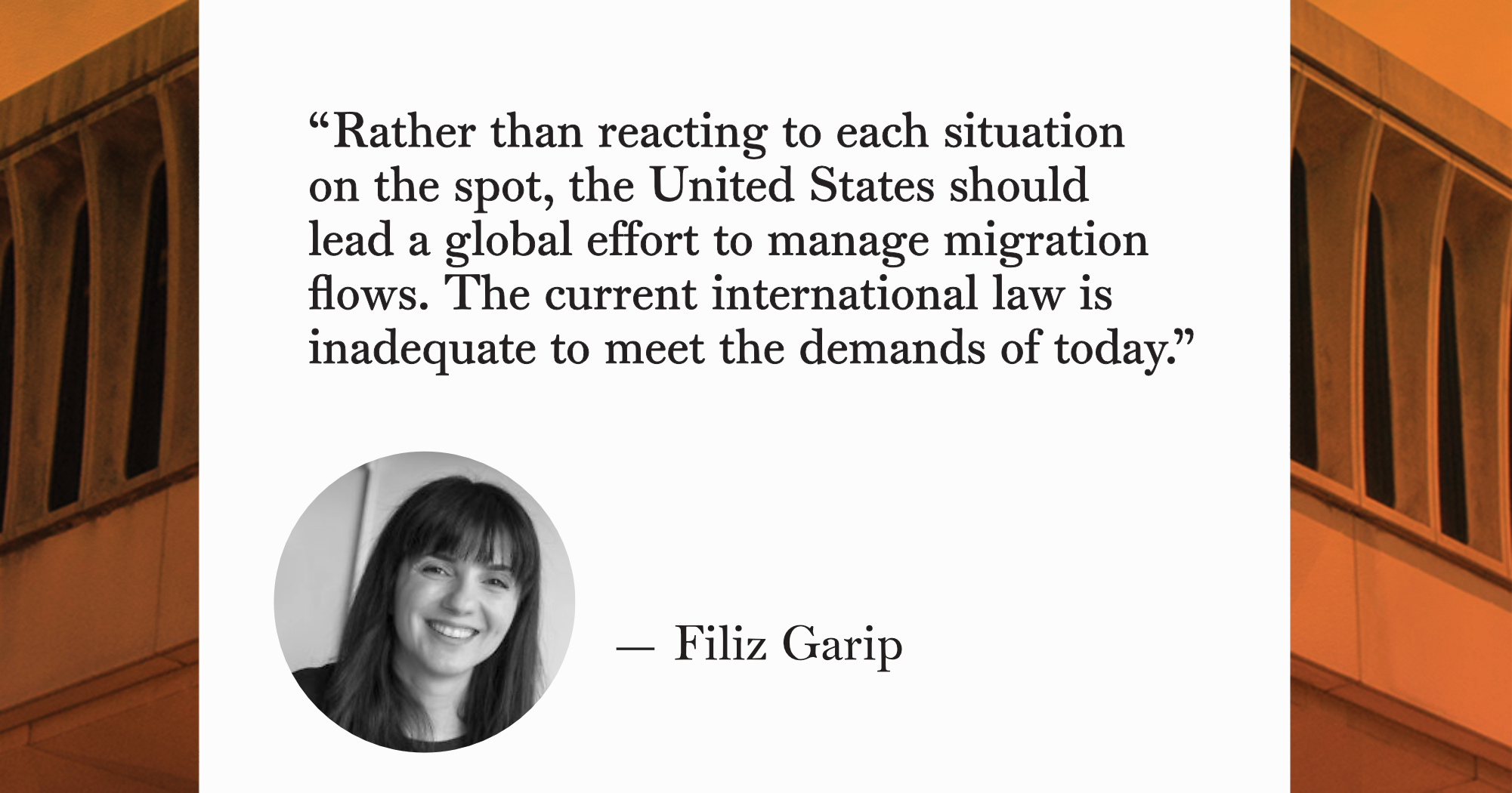 Dancygier: The U.S. is currently experiencing significant labor shortages, in part because immigration policies have been so restrictive. This makes it all the more puzzling that the Biden administration has not been more open to immigrants, including asylum seekers. Given the dire situation in Haiti, the Biden administration should allow Haitians to get hearings and file asylum claims. It should then speed up the work authorization process and allow asylum seekers to find employment in the U.S.
Garip: We need to consider the root causes of migration here. Many Haitians ended up in Mexico, some making their way through Brazil and Chile, in the aftermath of natural disasters and political instability. Such mobility patterns will be the norm, not the exception, in the future given the impacts of climate change. Rather than reacting to each situation on the spot, the United States should lead a global effort to manage migration flows similar to the Paris Agreement on climate change. The current international law, which was established in the aftermath of World War II, is inadequate to meet the demands of today.
Q. How might this shape the perception of the Biden administration going forward? As well as the view of the United States from other countries?
Garip: The perception of the United States as a country of immigrants is already tarnished. The recent actions of the Biden administration have done little to remedy that. In general, rich democracies, like the United States, are dodging their responsibilities in offering protections to vulnerable individuals established by the 1951 U.N. Refugee Convention and by establishing "remote control" systems to keep asylum seekers from reaching their borders. Today, the majority of asylum seekers in the world are hosted by developing countries, like Turkey, Lebanon, and Jordan, where the burden of supporting millions of newcomers creates de-stabilizing effects. The United States, similarly, has still not abandoned its 'Remain in Mexico' policy, which forces people to wait in Mexico while seeking asylum in the United States.
Q. Is this a preview of what's to come as more countries are hit by natural disasters and potential political tumult? What will the U.S. do then?
Garip: Sadly, yes. We lack a legal framework for addressing migration driven by environmental events and their aftermath. The current asylum system uses a narrow refugee definition. They define this as someone fearing persecution for reasons of race, religion, nationality, membership of a particular social group, or political opinion. That does not cover individuals forced out by sudden or gradual-onset environmental change. This definition, in some cases, excludes even individuals escaping violence. For example, this would include children fleeing forcible recruitment by gangs in Central America — a group that should be eligible for refugee status according to the U.N. Refugee Agency.
There are already too many barriers to access to asylum. We have a backlog of more than a million pending cases in federal immigration courts and a shortage of legal representation for asylum seekers. It is time for the United States to correct course. We need to recognize our international obligations, set an example in championing human rights, and spearhead efforts to extend protections to individuals threatened by environmental destruction and violence.
---
SPIA Reacts is a series of interviews with SPIA experts addressing current events.