Sep 15 2022
Other Researchers
Douglas Massey
Filiz Garip
Source
Princeton School of Public and International Affairs
Florida Governor Ron DeSantis sent two planes of migrants to Martha's Vineyard on Sept. 14, causing confusion on the Massachusetts island. A day later, Texas Governor Greg Abbott sent two buses of migrants to Vice President Kamala Harris' residence, sparking further political debate. 
These actions have led some to wonder whether migrants are being used as "political pawns." We discussed the situation with experts at the Princeton School of Public and International Affairs:
Filiz Garip is professor of sociology and public affairs. Her research lies at the intersection of migration, economic sociology, and inequality.
Douglas S. Massey is the Henry G. Bryant Professor of Sociology and Public Affairs. His research focuses on international migration, race and housing, discrimination, education, urban poverty, stratification, and Latin America, especially Mexico.
Q. What is your reaction to these recent decisions?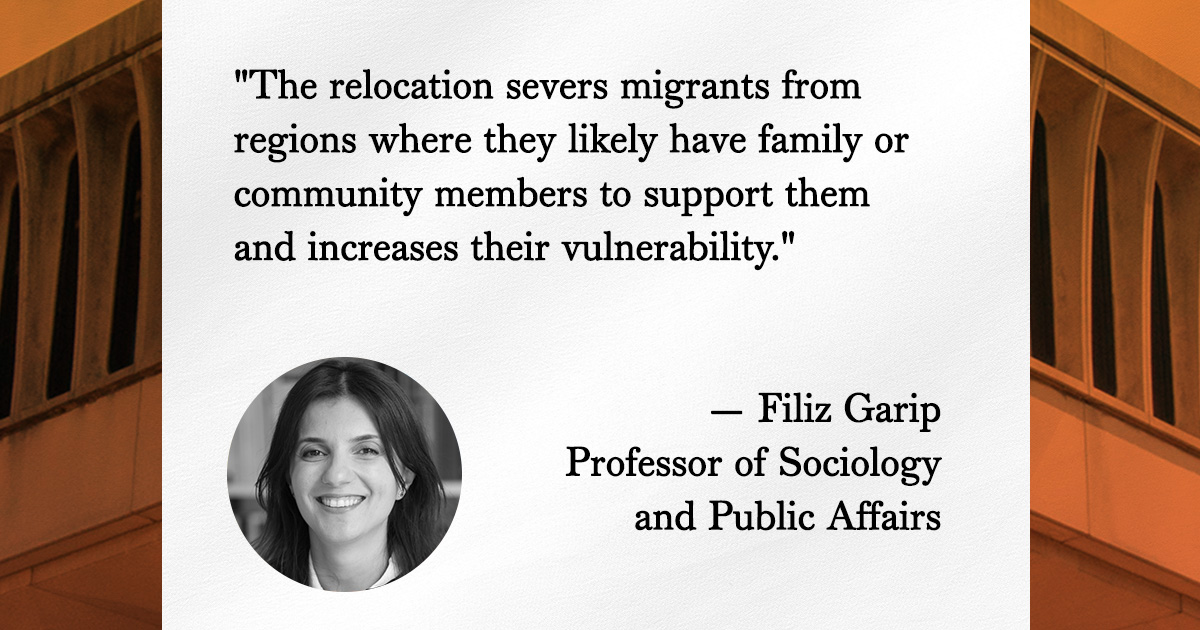 Massey: I believe this is a cynical capitalization on the unfortunate situation of vulnerable human beings for political purposes, using them as pawns in the service of unbridled ambitions to run for national office.
Garip: This is an appalling move that serves no other purpose than DeSantis' personal agenda to make a name for himself on the national political stage.
Q. Some argue this is a political strategy. If so, what influence do you think this will have?
Garip: It certainly looks like it. Moving 50 or so migrants from one place to another is not a policy that solves anything, but it is a highly symbolic act. Our immigration policy is full of symbolic (yet ineffective) acts, like building a border wall that does little to undocumented migration other than creating the illusion that politicians are doing something about it.
Massey: It is red meat to certain bases in the Republican Party. Our national immigration and border policies are dysfunctional. Neither the state of Massachusetts nor the well-off denizens of Martha's Vineyard are to blame for problems that can only be solved at the federal level.
Q. Texas Gov. Greg Abbott sent two buses of migrants to Vice President Kamala Harris' residence on Thursday, and made a similar move in August, sending migrants from the Mexican border to New York City. Should we expect to see more of this? What's fueling these actions?
Garip: It is all part of the same playbook. Politicians like Abbott and DeSantis are exposing vulnerable migrants to senseless cruelty to prove their anti-immigration bona fides. By sending migrants from Republican states to Democratic areas, they are also attempting to further polarize the electorate. This is becoming more common globally, as well. We just need to look back to last year when Belarus' authoritarian President Alexander Lukashenko pushed thousands of Iraqi, Syrian, and Afghan migrants to the Polish border to antagonize the European Union. Several migrants died in the freezing conditions on the border.
Massey: My opinion is that Gov. Abbott originated this cruel use of vulnerable migrants for political purposes, and DeSantis is simply a copycat.
Q. What are the impacts to the areas where the migrants are relocated to, as well as the migrants themselves? 
Massey: Martha's Vineyard is not equipped to deal with the migrants or the problems that led to their coming to the U.S. The story will have a short half-life in the media. The migrants will suffer from being transported to a place where they do not want to be.
Garip: The relocation severs migrants from regions where they likely have family or community members to support them. It increases their vulnerability.
Q. Is there anything the federal government can do?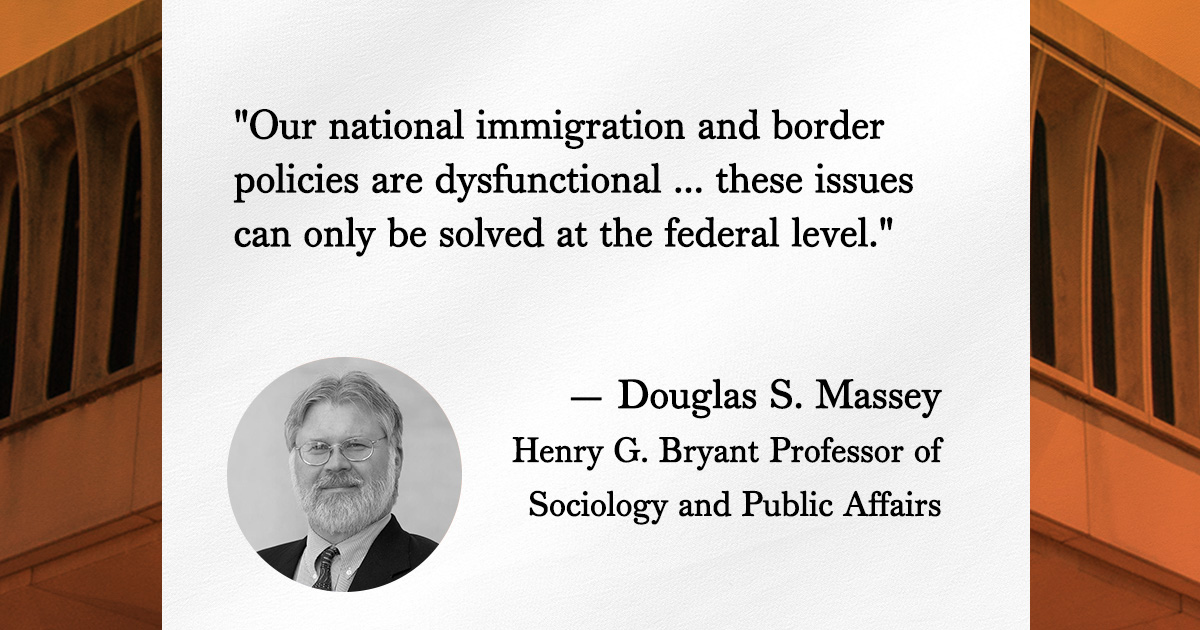 Massey: They can be transferred to federal custody for processing either as unauthorized migrants or asylum seekers. In the longer term, two policy changes are needed. We need to resurrect the asylum system to function in accordance with U.S. laws and the international treaties the U.S. has signed. We also need to authorize the legalization for the 11 million unauthorized migrants who are currently present in the U.S. 
Most of the migrants arriving without authorization seeking refuge in the U.S. have relatives in the country, but, because they are unauthorized officials, they cannot easily transfer newly arriving migrants to the care of their families and communities while their cases are being processed in the immigration bureaucracy. Instead, we send families into detention centers that were created to process single undocumented adult males quickly and not to house women and children indefinitely.
Garip: The federal government needs to address the mounting asylum backlog and long wait times. In the long run, the government also needs to open a pathway to regularizing millions of unauthorized migrants in the U.S.
---
SPIA Reacts is a series of interviews with SPIA experts addressing current events.