Oct 28 2020
Source
Princeton School of Public and International Affairs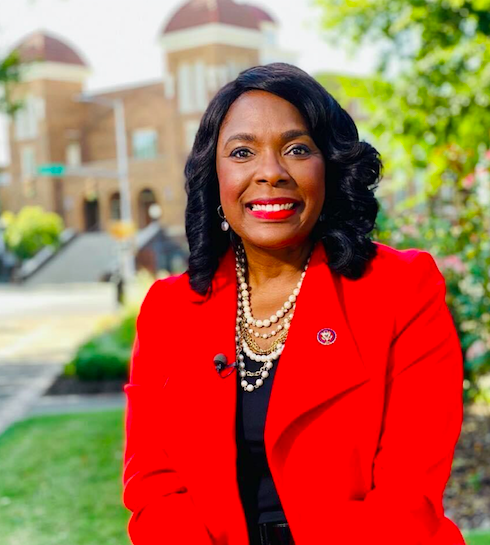 While a student at Princeton University, Terri Sewell '86 interned for Richard Shelby, the member of Congress representing Alabama's 7th Congressional District. Twenty-six years later, she is now the U.S. Representative for that same district, currently in her fifth term.
Sewell is a native of Selma, Alabama, the crown jewel of Alabama's Black Belt. The same issues of systemic poverty and staggering, widespread unemployment that plagued the region when Sewell interned for then-Democratic Congressman Shelby still exist today.
Despite these economic challenges, Sewell is inspired by the resiliency of the 7th District's constituents and proud of the rich civil and voting rights history that took place in the 7th District. Sewell came to Congress to help address the economic challenges that have kept upward mobility out of reach for generations of people in Alabama's 7th District.
She is one of the first women elected to Congress from Alabama and is the first Black woman to ever serve in the Alabama Congressional delegation. In this Q&A, she discusses the challenges she's faced as a Black woman in politics as well as how to work collaboratively and effectively despite differences. 
Q. What is/are the most important policy issue(s) facing us today?
Sewell: I think we're experiencing a triple threat: a public health crisis, an economic crisis, and our democracy is under threat. Our elections are being undermined by outside influences like Russia and Iran, who are sowing discord. We are also threatened internally, as our own president has openly said he believes fraud is occurring in elections, along with threats to the U.S. Postal Service. Our government is dysfunctional. On top of all of this, we're at a pivotal moment when it comes to race, and there are important dialogues that must be had.
Q. What are you most passionate about? What current project or initiative are you most excited about?
Sewell: Public service has always been part of my life. This was modeled to me by my parents, both of whom were educators. My mother was the first Black woman to sit on City Council in Selma; she was a great political role model for me. She and my father instilled in me the idea that "to whom much is given, much is required." This, along with growing up in Selma, led me to public service. I grew up a stone's throw from the Edmond Pettus Bridge, which served as a constant reminder of the importance of civic engagement, peaceful nonviolent protests, and being able to ask government to achieve social change through collaborative efforts.
As a Congresswoman from my hometown, I get to represent legislation that directly impacts everyday citizens. Right now, I'm most passionate about trying to restore the Voting Rights Act of 1965, which was gutted by the Shelby County vs. Holder Supreme Court decision. Over the past few years, I have carried the H.R.4 legislation, a bill that restores the equal right to vote and the Voting Rights Act by establishing new criteria for determining which states and areas must get preclearance before any changes to voting take place. I am proud to say H.R. 4 was renamed the John R. Lewis Voting Rights Act in honor of the late, great Congressman John Lewis, who dedicated his life to protecting the VOTE as our VOICE. It's a reminder that your vote, and how you vote, deeply matters.
Because of my district, I take voting rights very seriously. Also, trying to break the cycle of poverty in this area is my challenge. I'm up to the challenge. I left Selma and chose to come back to better represent this district in Congress. I know what's possible with better opportunities; I'm living proof of that.  
Q. Over the course of your career, what are the most important skills/strategies you've learned?
Sewell: I began my career as a lawyer, mostly to help pay off my student loan debt. I moved back to Alabama because my father became ill. Around the time I returned home, my current position became an open seat. You could say I'm a believer in divine intervention.
Both as a lawyer and a legislator, the single most important skill I've learned is the power of listening. That can be hard for me as I'm very talkative, social, type A. But I've learned that only through listening can you understand where people are coming from and find common ground, not differences. Only through listening can you articulate solutions. The best ideas don't come from being in a room with people who agree with you. I learned that first at Princeton and later in my career as well.
Q. When it comes to decision-making, what are the most effective strategies? How do you make critical decisions and forge a consensus?
Sewell: First, you have to be open to it. You have to believe in an institution's ability to affect change. Then, you have to be willing to do the hard work of finding common ground, focusing on commonality instead of difference. I've found you can turn dissention into consensus by forging commonality if you just listen to what makes people tick. You learn very quickly that you can either alienate or participate.
I can think of no better example than when I came into Alabama's house delegation as the lone Democrat. The only way I was going to get anything passed was to work collaboratively. We'd meet for lunch meetings, which often felt like a Republican Caucus. I could have easily skipped these meetings, but I made a pact to myself to attend each one. I spent the time getting to know my colleagues. I did not want to see them as an "R" or a "D" — but as people. We engaged each other in conversation. I found that each of them had a connection to my district. So during these lunches, I began hammering home the message: "A rising tide lifts all boats." To really elevate the whole state, we must invest our resources in those who need them the most. Two years later, a major manufacturing company was built in Wilcox County, which is in my district, to boost economic development.
This illustrates that the currency in Congress is relationships. You are only as good as your ability to influence others. The key is learning to develop lasting relationships around issues and around people. For me, I want every moment of my time in Congress to count. I've seen people spend their whole career getting one bill passed. That's why I'm about working collaboratively and effectively.
Q. In what ways did the Princeton School of Public and International Affairs prepare you for your career?
Sewell: I came to Princeton after graduating from my public high school as its first Black valedictorian. I had a lot riding on my shoulders. Princeton opened up a whole new world to me, quite literally, allowing me to have a more global perspective. It was because of the field experience requirement that I was able to obtain my first passport and study abroad my junior year. It was the first time I was able to travel not just through books. I studied at the London School of Economics and, even though my job is now domestic, that experience and being at Princeton helped me gain a global perspective and become more of an internationalist.
Working on my senior thesis at Princeton was also profound. I often reference it, as it was titled, "Black Women in Politics: Our Time has Come." I received a grant from the University and was able to interview Shirley Chisholm, the first Black woman ever elected to Congress. What was supposed to be a 30-minute interview turned into four hours due to a snow storm. I remember asking her, "What's the bigger barrier: being Black or being a woman?" She said, unequivocally, it was being a woman. Today, when I'm asked this same question, I give the same answer. Women have come a long way, but there are still barriers. All my life people have underestimated me. I think some may underestimate women in general. My strategy has always been to out work, out raise (money), and overcome any barrier. Writing that thesis, and being a student at Princeton in general, inspired me to become this person.
Q. What were the tactical skills you gained while at the School that you still employ today?
Sewell: In additional to the international perspective, the School fosters critical thinking and evidence-based analysis, as well as collaboration. I still use the strategies I learned in my classes on macroeconomics and ethics, especially in my role with the Ways and Means Committee. We're dealing with tax policy, health care, all of that, and through that I've seen my academic experience and political experience converge.
I also think being at the School gave me confidence. Princeton and SPIA encouraged the idea that every voice mattered, that people weren't isolated because of their views. I still see this in my role on the Princeton Board of Trustees today. Voting to change the name, removing "Woodrow Wilson," was perhaps one of my proudest moments on the board. I hope that we, in this moment, can create real, lasting social change. I want this generation to see that their peaceful protests can lead to extraordinary legislative change.
Q. How can young people entering the workforce be successful?
Sewell: My mom, who was a brilliant woman, had a quote that I live by: "Bloom where you're planted." You can make a difference right where you are. You don't have to be an elected leader to affect change. You can make a difference right now — whether it's in your school, your church, or your community.
You also have to define yourself for yourself. Society will define you by very stereotypical means like your race, gender, or background. You have to know who you are. You have to look at yourself in the mirror and walk this earth knowing your internal power. Whatever decision-making table you're at — if there isn't a chair, bring your own — even if it's a folding chair.
Changemakers: Alumni Making a Difference is a Q&A series featuring alumni of the Princeton School of Public and International Affairs.