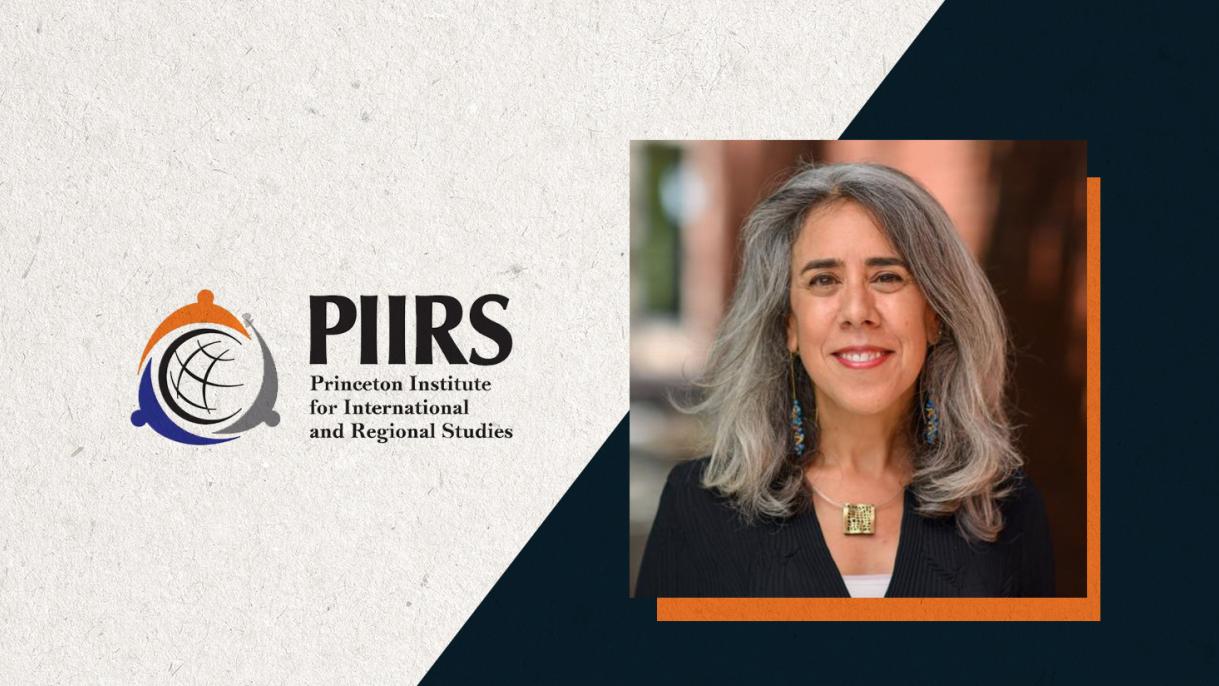 Yashar Appointed Director of Princeton Institute for International and Regional Studies
Jun 21 2022
By
Pooja Makhijani, Princeton Institute for International and Regional Studies
Deborah J. Yashar, professor of politics and international affairs, has been appointed director of the Princeton Institute for International and Regional Studies (PIIRS) and the Donald E. Stokes Professor of Public and International Affairs. Her appointment is effective July 1, 2022.
Yashar is a longtime Princeton faculty member whose research and teaching focus on the intersection of democracy and citizenship with publications on regime politics, ethnic politics and social movements, violence, state formation and state capacity, and Latin American politics.
She has served in numerous leadership roles on campus, including director of undergraduate studies at the Princeton School of Public and International Affairs (SPIA), director of the Fung Global Fellows Program and director of the Program in Latin American Studies. From 2013 to 2021, she served as chief editor of World Politics, a quarterly journal of political science housed at, and supported by, PIIRS. Beyond Princeton, she has served as faculty co-chair of the Social Science Research Council's Working Group on Anxieties of Democracy and affiliated Anxieties of Democracy book series at Cambridge University Press. At the American Political Science Association (APSA), she has served in various roles, including as president of the organized section for politics and history, a member of the ethics committee, and part of the steering committee on research transparency and deliberation (for the qualitative and multi-method research organized section).
Yashar is a member of the American Academy of Arts and Sciences. Among her other awards and fellowships, she has received recognition from Fulbright, the Joint Committee on Latin American Studies of the American Council of Learned Societies and the Social Science Research Council, the United States Institute of Peace, the Helen Kellogg Institute for International Studies at the University of Notre Dame, and the Institute for Advanced Study.
Yashar said she is "excited and honored" to be selected as PIIRS' next director.
"The world is facing existential challenges, and the academy is particularly well poised to tackle such issues," she said. "Seeding, supporting, and generating collaborative and multidisciplinary work on global and regional concerns — for example, war and conflict, global health, climate change, racial justice, migration, democracy and authoritarianism, language and culture, inequality and precarity, empire and decolonization — is not only intellectually compelling but also normatively necessary."
PIIRS promotes research, learning and dialogue on issues of global importance, and sponsors a variety of programs and activities aimed at advancing knowledge of world regions and global issues. PIIRS supports five certificate programs and sponsors the Global Seminars, six-week courses taught by University faculty in international locations, and the Exploration Seminars, seven to nine days of international travel in association with a course taught on the Princeton campus. The Undergraduate Fellows Program provides juniors with support to undertake international field work research for their senior theses; the Graduate Fellows Program supports students in the write-up stage of the Ph.D.
PIIRS co-sponsors conferences, seminars and short-term visits of distinguished scholars from around the world. The Fung Global Fellows Program brings six exceptional scholars from around the world to Princeton for a year of research, writing and collaboration around a common topic. PIIRS is also home to the Paul and Marcia Wythes Center on Contemporary China, the M.S. Chadha Center for Global India, the Brazil LAB and the Global History Lab, each of which serves as a hub for an extensive network of scholars.
Yashar envisions an interdisciplinary center like PIIRS "as an intellectual home and crossroads – one that brings people together at Princeton to pursue innovative scholarship; one that fosters research and teaching abroad; and one that emphasizes our collective responsibility to partner with colleagues around the globe in the coproduction and sharing of knowledge," she said.
"Deborah is a leading scholar of world politics," said Amaney Jamal, dean of SPIA and the Edwards S. Sanford Professor of Politics. "We congratulate her on this new role at the University and look forward to working with her closely, especially as SPIA continues to strengthen its internationalization efforts."
"Professor Yashar's research interests on democracy and development provide a wonderful lens to lead PIIRS and intersect nicely with the mission of the Chadha Center," said Anu Ramaswami, the Sanjay Swani '87 Professor of India Studies, professor of civil and environmental engineering, PIIRS, and the High Meadows Environmental Institute (HMEI), and the director of the M.S. Chadha Center for Global India. "I am excited to work with her to address the themes of democracy, development and sustainability in the face of rapid technological and global changes."
"All of us are thrilled that Deborah Yashar has agreed to become the new director of PIIRS," said Julia Elyachar, associate professor of anthropology and PIIRS, and a member of PIIRS' executive committee. "Her leadership and scholarly breadth shown over the years on campus and in many important institutional settings make her extremely well positioned to move PIIRS forward to the next phase of its development. Her deep knowledge of international affairs from the perspective of Latin America will add another important piece to the puzzle of PIIRS's work on campus."
In addition to her work at SPIA and Department of Politics, Yashar has collaborated with departments across campus and served on many University committees, including executive committees for PIIRS, the Program in Latin American Studies, the Program in Ethnographic Studies, the University Council on International Teaching and Research, the The Mamdouha S. Bobst Center for Peace and Justice, and the Center for Migration and Development. She has also served as member on the C-9, the student advisory committee on sexual misconduct and the university working group that recommended the Bridge Year program.
Yashar is an award-winning author and has published numerous journal articles and scholarly papers. Her books include "Homicidal Ecologies: Illicit Economies and Complicit States in Latin America," "Contesting Citizenship in Latin America: The Rise of Indigenous Movements and the Postliberal Challenge," and "Demanding Democracy: Reform and Reaction in Costa Rica and Guatemala, 1870s-1950s." Her various coedited volumes have focused on democracy, inclusion, state capacity and Latin American politics.
Before coming to Princeton in 1998, Yashar was junior faculty in the Department of Government and Committee on Degrees in Social Studies at Harvard University. She earned her undergraduate degree from Brown University, and her M.A. and Ph.D. in political science from the University of California-Berkeley.