Oct 23 2018
Source
Woodrow Wilson School
Nuclear scientist Zia Mian was named winner of the American Physical Society's (APS) 2019 Leo Szilard Lectureship Award, which recognizes outstanding accomplishments by physicists in promoting the use of physics for the benefit of society in such areas as the environment, arms control and science policy.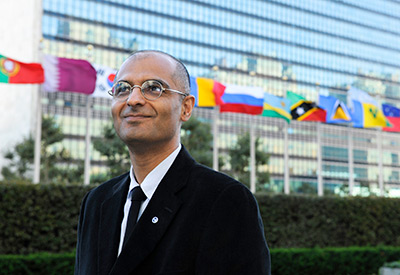 Mian, a physicist with the Program on Science and Global Security (SGS), which is part of Princeton University's Woodrow Wilson School of Public and International Affairs, is being honored by APS for "promoting global peace and nuclear disarmament particularly in South Asia, through academic research, public speaking, technical and popular writing and organizing efforts to ban nuclear weapons."
"The Szilard award is a great honor," said Mian, who co-directs SGS with Alexander Glaser, associate professor of mechanical and aerospace engineering and international affairs. "The work I have been doing at Princeton is only possible because of my wonderful colleagues at SGS and fellow citizen-scientists and activists around the world, and the tremendous support we have received from the foundations that fund our work and the Woodrow Wilson School. I hope this will help in some way inspire young next-generation scientists to cross disciplinary lines and work on addressing the technical and policy challenges that stand in the way of global peace and security."
As part of his work with SGS, Mian directs the Program's Project on Peace and Security in South Asia and is co-chair of the International Panel on Fissile Materials, a group supported by SGS and comprised of nuclear experts from 16 countries that works to end all production of nuclear weapons materials and eliminate existing stockpiles worldwide. He is the co-editor of Science & Global Security, the international journal of arms control, disarmament and nonproliferation science, based at the University.
Among his many accomplishments, Mian played an especially important role after India and Pakistan conducted a series of nuclear-weapons tests in 1998 in educating the publics and governments in the two countries on the danger of nuclear weapons.
In recent years, Mian's work has focused on advancing the technical basis for international policies to reduce stockpiles and end production of plutonium and highly enriched uranium, the key ingredients in nuclear weapons. He also has been active in providing technical advice and support for the negotiation and implementation of the Treaty for the Prohibition of Nuclear Weapons agreed upon in 2017 by 122 countries at the United Nations.
"Zia has played an increasingly important role in advising the non-nuclear-weapon states as they try to put pressure on the nuclear-weapon states to get moving on reducing their reliance on nuclear threats and on reducing their nuclear weapons — ultimately to zero. This is regarded by some as a quixotic quest but it is critical to keeping alive the hope for a future without nuclear weapons," said Frank von Hippel, founding director of SGS and a professor of public and international affairs, emeritus. von Hippel recruited Mian to Princeton in 1997.
"Throughout his 20 years at Princeton, Zia has constantly challenged conventional thinking on issues of global peace and security as a scholar and as an activist," Glaser said. "Zia has produced important books, films, articles and essays and spoken at all kinds of forums. He can speak one day in Palmer Square in Princeton and the next day at the United Nations in Geneva or New York. He also has been a mentor and an inspiration for generations of students at Princeton and researchers in our program. It is great to see that the APS acknowledges these accomplishments and contributions with this prestigious award."
The Leo Szilard Lectureship Award honors physicist Leo Szilard, originator of the nuclear chain reaction, co-designer of the world's first nuclear reactor, and one of the first scientists to work to prevent the use of nuclear weapons and then to ban them.
Szilard also had connections to Princeton. In 1946, Szilard worked with Albert Einstein to set up the Emergency Committee of the Atomic Scientists, at an office in Princeton at 90 Nassau Street — where the Bank of America is currently located — to educate the public around the world about the risks from nuclear weapons. Later, he lived for a few years in Drumthwacket, a house on Stockton Street that was the home of inventor and scientist Abram Spanel and his wife, Margaret, and is now the New Jersey governor's mansion.
The APS is a nonprofit membership organization working to advance and diffuse the knowledge of physics through its outstanding research journals, scientific meetings, education, outreach, advocacy and international activities. APS represents more than 55,000 members, including physicists in academia, national laboratories and industry in the United States and throughout the world.