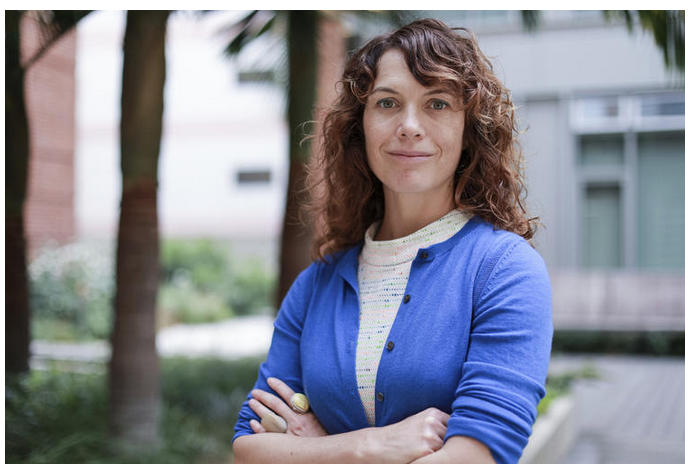 Date & Time
Sep 20 2023
4:30 PM - 6:00 PM
Speaker(s)
Amy Rowat, Professor & Vice Chair, Integrative Biology & Physiology, University of California, Los Angeles
Audience
Open to the Public
The rapidly developing field of cellular agriculture—which addresses the challenge of growing muscle tissue ex vivo by harvesting precursor cells from animals and culturing them in a bioreactor—has exciting potential to provide a sustainable alternative method for meat production with reduced environmental impact. But to make cultured meat a feasible and delicious protein alternative, these products need to be generated at a massively larger scale than typically used for cell culture in biomedical research. A critical step for scaleup is to culture cells in suspension using a large-scale bioreactor. However, in living animals, nearly all cells attach to extracellular scaffolds, which enable muscle cells to 'flex' and generate biological tension.
My group recently developed edible microcarrier scaffolds that have tunable mechanics—which can mimic the natural growth environment of muscle and fat cells—and are compatible with suspension culture. Here I will discuss our approach to engineer microcarrier scaffolds, which provide the foundation for structuring and organizing the growth of both myogenic and adipogenic cells and microtissues into cultured meats. I will also discuss our collaborative research efforts using perspectives from across disciplines to address public perceptions of cultured meat, and to engage students and general audiences in critical conversations around the future of food systems.
Amy Rowat is Professor and Vice Chair of Integrative Biology & Physiology and the Marcie H. Rothman Presidential Chair in Food Studies at the University of California, Los Angeles. Rowat is the recipient of numerous awards and honors, such as the prestigious National Science Foundation CAREER development award and a National Science Foundation BRITE Fellow award. She has authored over 70 peer-reviewed publications and 5 patents. In addition to her commitment to research, Rowat has also pioneered the use of examples from food and cooking as vehicles for teaching sophisticated physics concepts to a general audience. She is founder and director of Science & Food, an organization based at UCLA that promotes knowledge of science through food and food through science.  Dr. Rowat has received wide media coverage from outlets like the New York Times, LA Times, NPR, Canadian Broadcasting Company (CBC), and the Australian Broadcasting Company (ABC).
---
Co-sponsored by Blue Lab, Effron Center for the Study of America, High Meadows Environmental Institute, and University Center for Human Values. The Princeton Food Project is sponsored by a Humanities Council Magic Grant for Innovation.