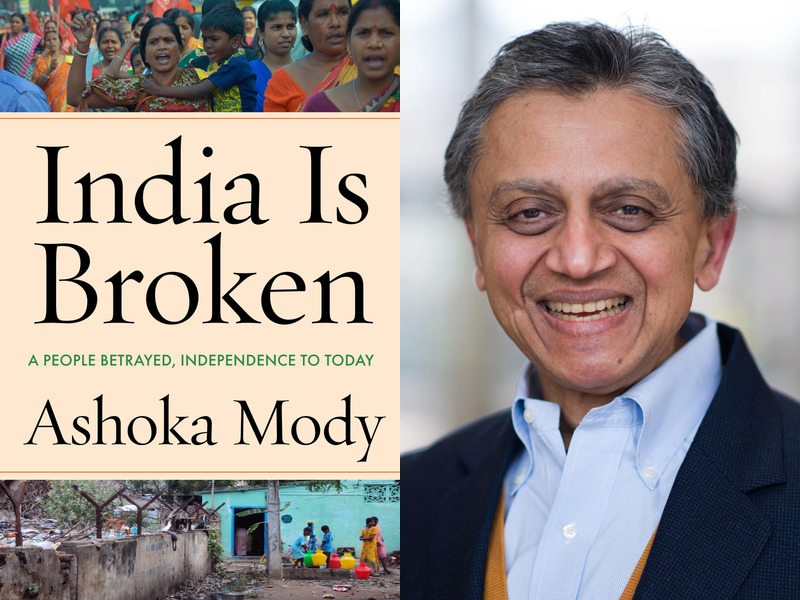 Date & Time
Sep 14 2023
4:30 PM - 5:45 PM
Speaker(s)
Ashoka Mody
Discussant: Razia Iqbal
Audience
Open to the Public, Registration Required
Open to the public. Registration is required for in-person attendance. Livestream on MediaCentral.
Join us for a book talk with Professor Ashoka Mody. Challenging prevailing narratives, Mody's new book, India is Broken, contends that India's post-independence leaders, starting with its first Prime Minister, Jawaharlal Nehru, failed to confront the country's true economic problems, and sought easy solutions instead. As popular frustration grew, and corruption in politics became pervasive, India's economic growth has increasingly relied on unregulated finance and environmentally destructive construction. The rise of a violent Hindutva has buried all prior norms in civic life and public accountability. Combining statistical data with creative media, such as literature and cinema, to create strong, accessible, people-driven narratives, this book is a meditation on the interplay between democracy and economic progress, with lessons extending far beyond India. Mody proposes a path forward that is fraught with its own peril, but which nevertheless offers something resembling hope.
Read a Q&A with Ashoka Mody about this book.
Ashoka Mody is Charles and Marie Robertson Visiting Professor in International Economic Policy at the School of Public and International Affairs, Princeton University. He is the author of EuroTragedy: A Drama in Nine Acts. Previously, Professor Mody was Deputy Director of the International Monetary Fund's Research and European Departments. He has worked at the World Bank, AT&T's Bell Laboratories, and the Centre for Development Studies, Trivandrum. He has been a Visiting Professor at the University of Pennsylvania's Wharton School and is a non-resident fellow at the Center for Financial Studies, Frankfurt. He received his Ph.D. in Economics from Boston University.
Discussant: Razia Iqbal, John L. Weinberg/Goldman Sachs & Co. Visiting Professor and Lecturer at the School of Public International Affairs. A journalist with BBC, for the last 12 years, she has been the main anchor of Newshour, an international current affairs radio program on the World Service, heard by millions in the U.S. It is an agenda-setting show, holding newsmakers to account and helping to make the BBC a trusted news brand in America. She has also reported from around the world, including as a special correspondent and arts correspondent for BBC TV. Iqbal has presented in-depth interview programs as well as documentaries for both radio and television. She is a frequent moderator at political and literary events. Iqbal taught at Princeton in the spring of 2022, serving as a visiting lecturer in the Humanities Council and one of the Ferris Professors of Journalism.