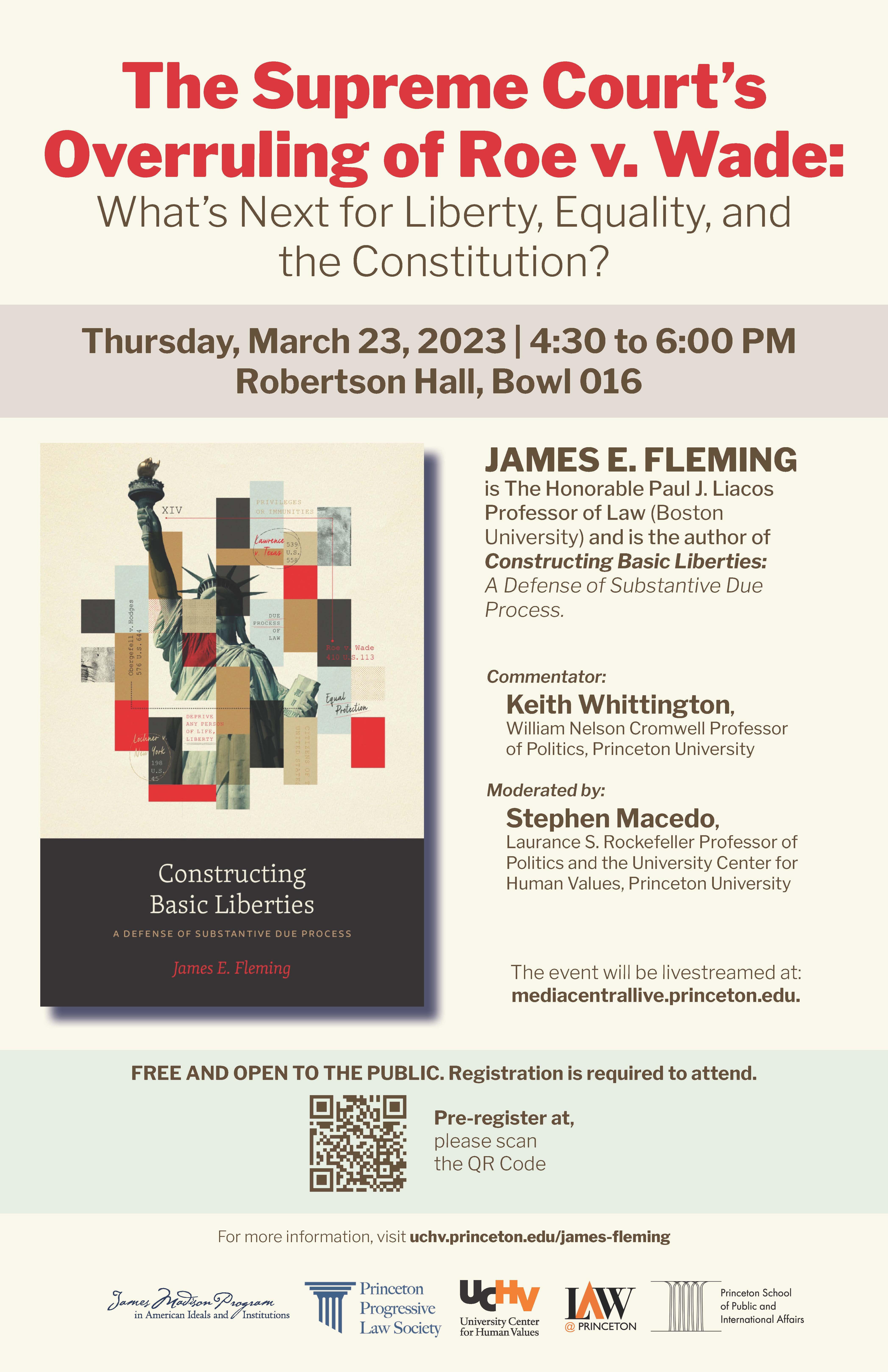 Date & Time
Mar 23 2023
4:30 PM - 6:00 PM
Speaker(s)
James E. Fleming
Keith Whittington
Stephen Macedo
Audience
Open to the Public
In Dobbs v. Jackson Women's Health Organization, the Supreme Court overruled Roe v. Wade and Planned Parenthood v. Casey, which had protected the constitutional right of pregnant persons to decide whether to terminate their pregnancies. Justice Alito's 5-4 majority opinion in Dobbs denied that it "cast doubt" on any other precedents. But Justice Thomas's concurring opinion said the quiet part out loud: that all of the substantive due process decisions protecting personal autonomy and bodily integrity—including the rights to use contraceptives, to "same-sex" intimacy, and to "same-sex" marriage—were "demonstrably erroneous" and should be overruled. Are these rights next? Is the Supreme Court just getting started? Many liberals and progressives (including feminists, queer theorists, and critical race theorists) have feared so. Many conservatives have hoped so. Others have tried to draw lines.
To address these issues, we have invited James E. Fleming to discuss his timely and important new book, Constructing Basic Liberties: A Defense of Substantive Due Process (University of Chicago Press, 2022). Professor Fleming will argue that in Dobbs we can hear "the roar of a wave that could drown the whole world" (to quote Bob Dylan's prophetic "A Hard Rain's A-Gonna Fall") of personal autonomy and bodily integrity that should be protected through the doctrine of substantive due process. These basic liberties, he argues in his book, are necessary to extend ordered liberty and the status of equal membership in our political community to all.
The event will be livestreamed at mediacentrallive.princeton.edu.