May 24 2022
Source
Princeton School of Public and International Affairs
In-person celebrations for students graduating from the Princeton School of Public and International Affairs (SPIA) made a jubilant return to the Princeton University campus on May 17 and May 23, for the Classes of 2020 and 2022, respectively.
The week kicked off Tuesday, May 17, with a ceremony and reception at Robertson Hall honoring the 72 Master in Public Affairs (MPA), 21 Master in Public Policy (MPP), and three Ph.D. students who earned their graduate degrees during spring 2020, when the coronavirus pandemic necessitated entirely virtual commencement events. Princeton honored their achievements — as well as the undergraduate Class of 2020 — May 18 at an in-person Commencement ceremony at Princeton Stadium.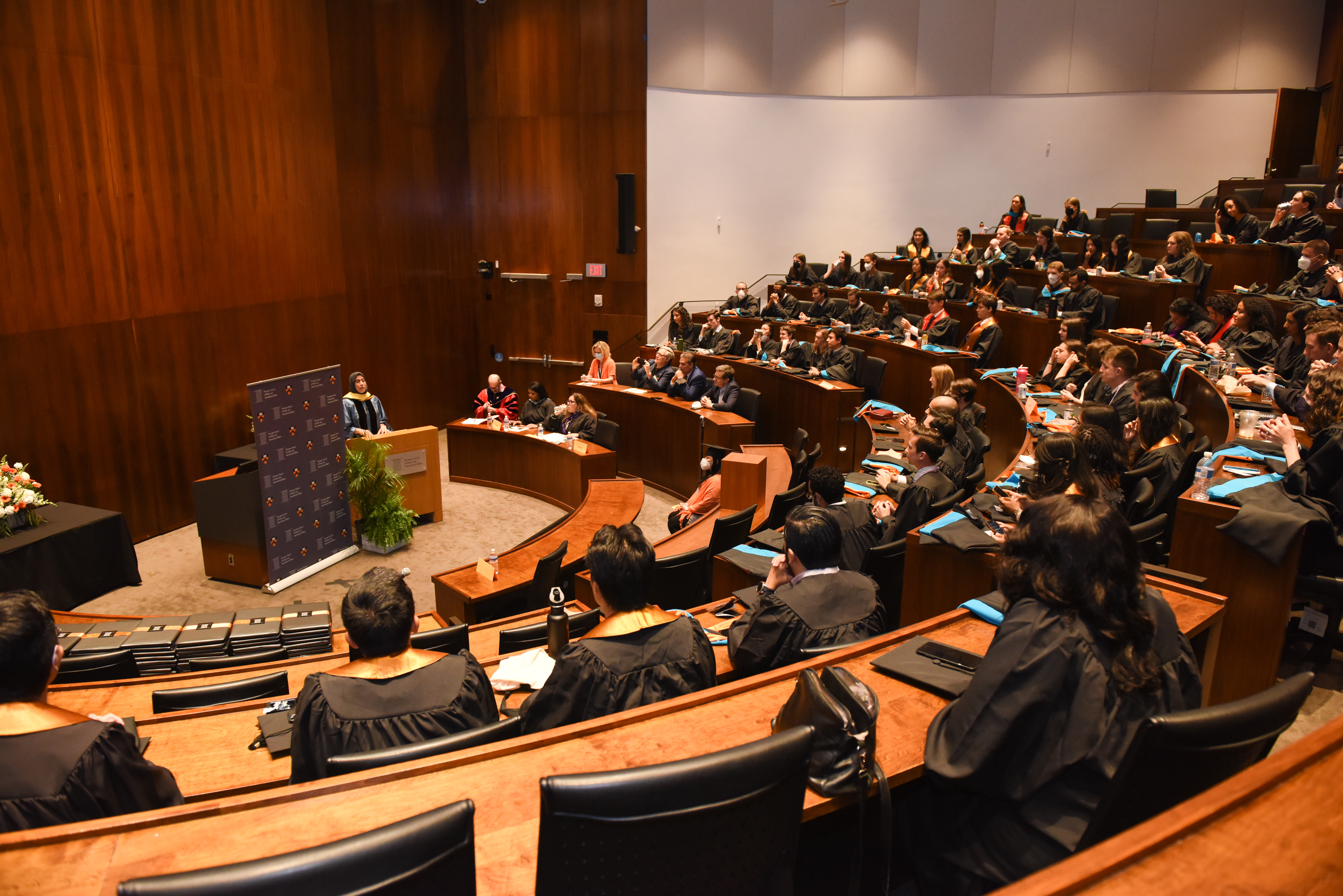 Dean Amaney Jamal remarked on the graduates' resilience and shared accomplishments from her first year as dean, influenced in part by feedback they provided during their two years at the School.
"I'm thrilled to welcome you back to Princeton — and to our renovated [Robertson Hall] — for a celebration of the degrees you earned in 2020 and all you have accomplished since," Jamal said at the May 17 celebration. "Circumstances well beyond your control, or ours, forged you into the most resilient class SPIA has ever seen. I admire the perseverance you exemplified as you left campus unceremoniously and during the unprecedented years since."
The Class of 2020 was instrumental in advocating for change at SPIA, launching petitions and social media campaigns, contributing to The Daily Princetonian, and calling on the School to address diversity, equity, and inclusion (DEI) more directly in its curriculum and programming. They advocated for a DEI half-term course requirement, which was adopted in summer 2020 for the incoming Class of 2022.
On Monday, May 23, celebrations commenced for the Class of 2022 with special SPIA-organized events (in advance of University Commencement on May 24).
A Hooding and recognition ceremony in Arthur Lewis Auditorium honored MPA and MPP graduates, with a Zoom livestream for families, friends, and mentors. Dean Jamal hooded the 57 MPAs (including three MPA/J.D. earners) and 25 MPP students. As Dean Jamal hooded each student, Senior Associate Dean Paul Lipton congratulated those earning optional certificates in specific areas of public policy, including Science, Technology, and Environmental Policy (11 MPAs; 8 MPPs); Health and Health Policy (5 MPAs); and Urban Policy (5 MPAs; 2 MPPs).
While both graduate cohorts exhibited a remarkable diversity of perspectives and interests, they were united by a shared passion for public service — personifying the University's informal motto, "in the nation's service and the service of humanity."
"You've exemplified the spirit of service during your time at SPIA, volunteering outside of your studies to serve local communities. Your annual service auction raised nearly $20,000 for the Trenton-based nonprofit Isles, Inc. In addition, your class volunteered at the Trenton Area Soup Kitchen; prepared hygiene kits for Elijah's Promise Community Kitchen; helped members of local communities file their income taxes; and worked on a wildflower project at the Grounds for Sculpture. I could not be prouder that your class fully embraced our School's mission of public service," said Dean Jamal.
Laura De Olden, associate director of graduate student life and diversity initiatives, recognized MPA students whose commitment to social justice enriched the School's community — including those who volunteered their time as leaders and representatives of the Princeton University Policy Student Government, or PUPSG.
"Class of 2022, we are most grateful to you for your passion to make spaces equitable in our School and community," De Olden said. "We can't wait to see what you will accomplish in the years to come as you continue to work as drivers of change committed to social justice." 
Later that afternoon, the 118 members of undergraduate Class of 2022, and their loved ones, marked their achievements in a SPIA Class Day event in Princeton's Richardson Auditorium. Despite becoming members of the SPIA community during some of the most tumultuous months of the pandemic, the class exhibited leadership as members of Ivy League Championship teams, Class officers, artists, residential college council members, Pace Center volunteers, and Orange Key tour guides, Dean Jamal said. She remarked on the variation and timeliness of their policy interests, from mass incarceration, U.S. and China relations, and affordable housing, to lessons learned from COVID-19, reproductive justice, and international humanitarian efforts.
"You drew from your training in quantitative and qualitative research methods, economics, politics, psychology, history, sociology, and other disciplines to produce incredible, actionable research," she said. "The faculty committee informed me that you've written some of the most impressive theses they have read in years."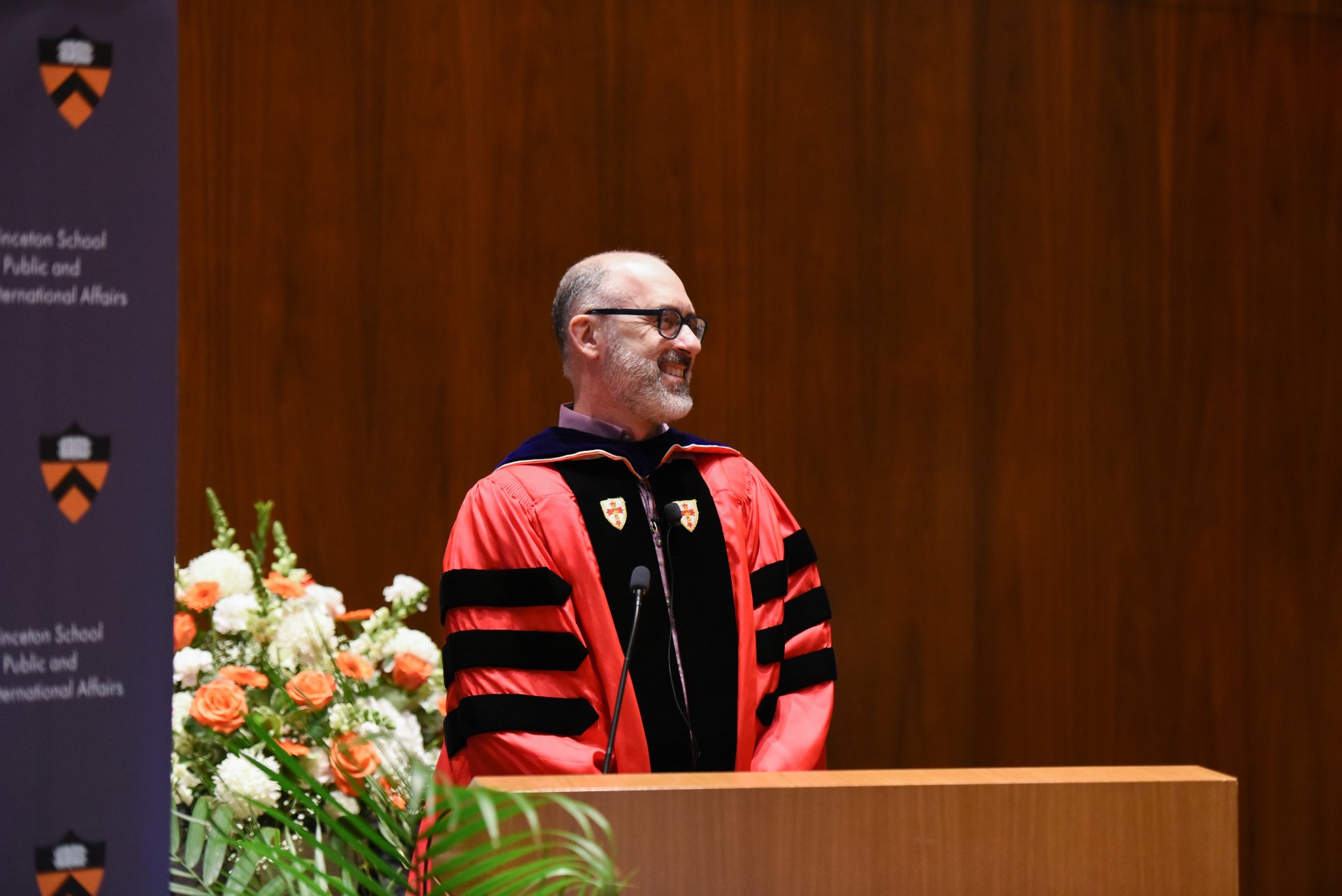 Lipton, who also serves as associate dean for undergraduate education, highlighted the students' scholarly breadth and diverse interests and noted their contributions to the SPIA undergraduate program.
"We rely on our students inside and outside the classroom for input on the program and our curriculum," said Lipton. "They serve as senior commissioners in our junior policy seminars and as members of our student advisory committee — meeting with the undergraduate program office regularly and providing wonderful insights, support on events, suggestions for programming, and an invaluable window into the student and academic life of our students."
To all of the students, undergraduate and graduate, Class of 2020 and Class of 2022, Dean Jamal impressed the importance of using their degrees to improve the world around them.
"With a degree from one of the top universities in the world comes great responsibility. Your new identity as a Princeton graduate will follow you throughout your career, providing you privilege and opening new doors. I know I do not need to tell you that you have an obligation to pay this privilege forward; yet I would still be remiss if I didn't say it today," she said. "No matter your policy path, I'm confident you'll lead on the issues that matter most to you and your communities."
View photos from SPIA's celebrations of the Classes of 2020 and 2022, as well as images from Princeton Reunions!
See the Class of 2022 graduate students who earned special prizes and distinction for academic achievement and commitment to public service.
Stay tuned for the Class of 2022 undergraduate students who earned thesis and additional prizes from SPIA and other Princeton departments.