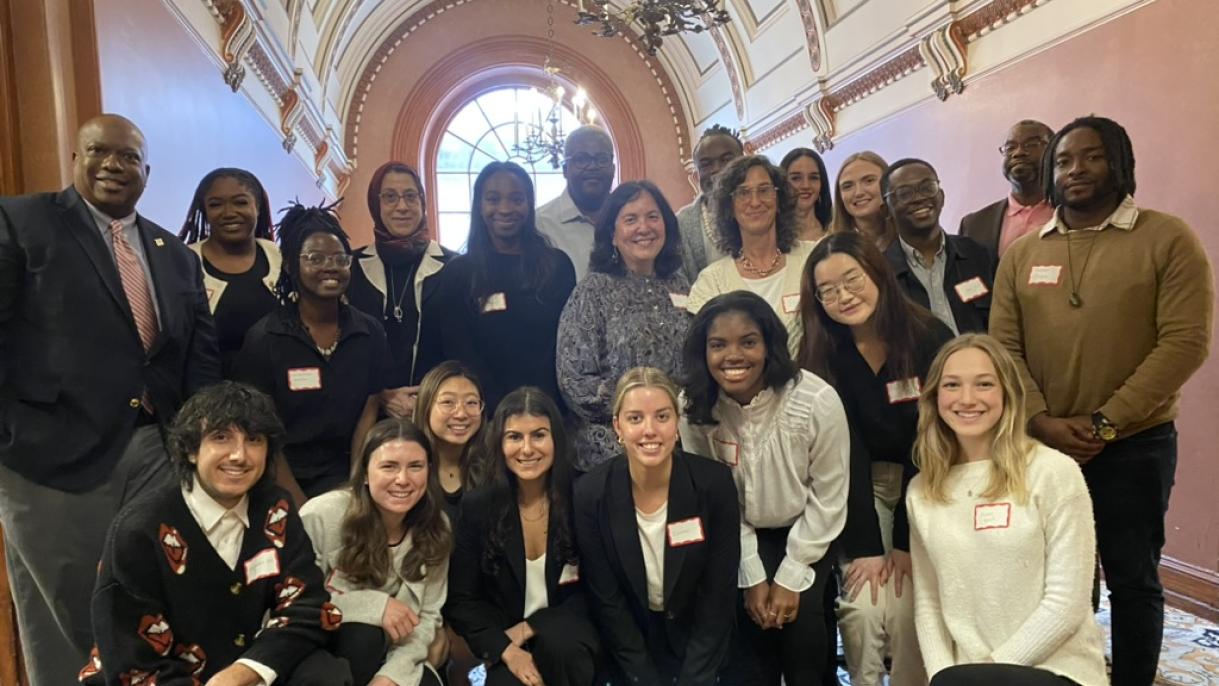 Policy Task Force Explores Reparations for African Americans in New Jersey
Jul 25 2023
Source
Princeton School of Public and International Affairs
How should New Jersey repair the historic and ongoing harms caused by slavery, segregation, and racial subjugation?
That was the question that guided the School of Public and International Affairs' Policy Task Force on Reparations in New Jersey as it researched, compiled, and presented its comprehensive report to distinguished guests on May 5. The junior task force — a required component of the SPIA curriculum — met during the spring semester to address reparations in the state, a topic that has found renewed spirit over the last decade because of continued racial disparity and the Black Lives Matter movement.
Using existing literature, global case studies, expert speakers, and experiential learning, the task force made policy recommendations at the individual, family, and community levels, where they explored the following topics:
Harms to individual African Americans perpetuated by New Jersey's education system,
Harms to African American families perpetuated by New Jersey's incarceration and child welfare systems, and
Harms to African American communities due to inadequate social infrastructure, environmental injustice, and inequitable local budgeting.
The final result was an inclusive report that identified nearly 30 bold policy recommendations, including annual social justice-oriented professional development workshops and requiring a Critical Race Theory course for teacher certification; establishing a network of universal, locally run child-care hubs; increasing prison working wages to allow for wealth accumulation; and urging the New Jersey Department of Environmental Protection to divert more funding for air monitoring, testing, and air quality data.
"These conversations can be painful, reckoning with injustices perpetuated through discriminatory and/or exclusionary policy over generations is hard. But attendees remarked about the students' accomplishments — both for the truths they uncovered and for their visionary proposals."

Anastasia Mann, lecturer and founding director of SPIA in NJ
The task force, led by Mann and Kiki Jamieson, president of The Fund for New Jersey, was comprised of eight SPIA juniors and two senior commissioners that helped students conceptualize their topics, brainstorm, and plan and practice their verbal presentations.
"This was an unusual task force in several respects," Jamieson said. "Rather than a lawmaker or executive branch official, our client was a statewide coalition of racial justice advocacy organizations. Rather than a narrow deep dive, our focus on reparations brought multiple topics to the forefront and explored the intersections and interstices. Rather than a technocratic approach, the subject demanded that students combine worldmaking vision with practical political analysis, including fiscal estimates and focus on implementation. Rather than consulting a niche of literature or credentialed experts alone, the students incorporated investigation of the viewpoints, interests, and analyses of community members and their lived experiences."
The task force engaged with New Jersey Assemblywoman Shavonda Sumpter, sponsor of a bill to create a reparations task force in the state, and Brandon McKoy of the Center on Budget and Policy Priorities, among other notable individuals throughout the process. The team also looked at historical reparation efforts, many of which were successful, including those directed at Japanese Americans who were imprisoned in internment camps during World War II, descendants of Holocaust victims and survivors who demanded accountability from Germany and Austria, and indigenous communities that sued Canada for decades of human rights violations.
"The complex subject matter required the students to work closely together, negotiating both the areas of overlapping interest — including child welfare, education, criminal legal system, environment and infrastructure, and public finance — and the areas of competing priorities," Jamieson said.
Mann added, "In-class speakers such as Jean-Pierre Brutus of the New Jersey Institute for Social Justice, which recently announced the formation of the New Jersey Reparations Council, which will explore the dimensions of reparations, including the issues our SPIA task force investigated, were critical to support students framing their research and understanding both the opportunities and constraints of public policy formation."
Those in attendance at Princeton's Prospect House to listen to the task force's findings included representatives from United Black Agenda, The Reverend Eric Dobson of Fair Share Housing Center, The Reverend Charles Boyer of Salvation and Social Justice, Marleina Ubel of New Jersey Policy Perspective, and Tennyson Donyéa, statehouse reporter for WHYY/PBS.
"As the granddaughter of survivors and victims of Nazi-occupied Europe, this experience has affirmed for me in a very personal way that governments can and should take action to reckon with past harms they have perpetrated against whole categories of people," Mann said.