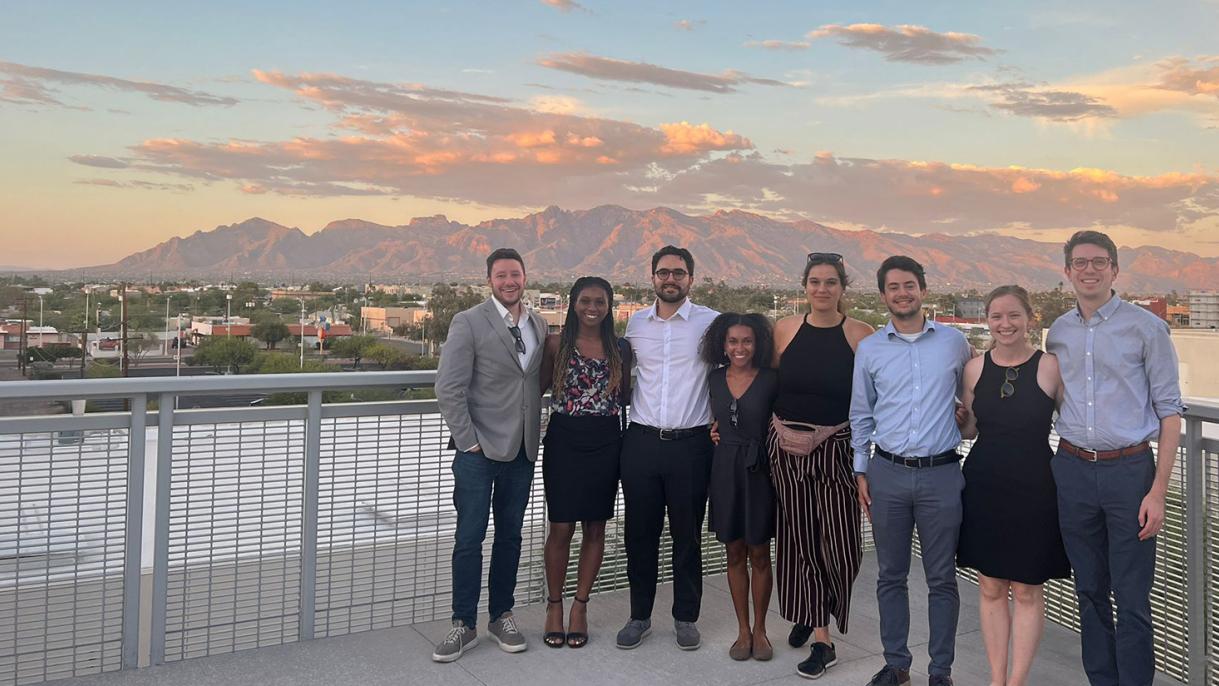 Policy Workshops Send MPA2 Students Around the World for Fall Break Immersions
Oct 25 2023
Source
Princeton School of Public and International Affairs
The School's second-year MPA students traveled around the world during last week's fall break as part of their Policy Workshops.
The MPA2s, as they are known, ventured to the American Southwest, Puerto Rico, New York, Asia, and Africa for six of this semester's seven Policy Workshops. A trip to Guatemala had to be canceled due to ongoing political turmoil there.
"We are glad to be able to provide our students with opportunities to work closely with local, national, and international organizations on the immediate and timely needs of communities here in the United States and around the world," said Paul Lipton, SPIA's senior associate dean of academic administration. "Indeed, our Policy Workshops have produced practical and informed solutions that many of our partners have adopted. We are grateful to our workshop directors for their guidance and expertise, the engagement of our partner organizations, and the commitment of our students."
For "Behavioral Insights for Financial Inclusion," students traveled to Dhaka, Bangladesh, to work with BRAC, an international development organization that is one of the world's largest NGOs.
"Drawing on insights from the behavioral sciences, our students helped to enhance and promote a BRAC app targeted to borrowers from small and midsize enterprises," said Varun Gauri, a lecturer of public and international affairs. "The ultimate goal was to facilitate access to attractive credit markets for small businesses and microfinance borrowers."
Students in Brian Kelly's "Examining Data and Data Ethics" workshop were in Nigeria preparing a policy brief for the United Nations' International Organization for Migration (IOM). According to Kelly, a visiting lecturer in the School, IOM is deeply engaged in both early warning and resolving displacement. Its most important early warning tool relating to conflict prevention in West Africa is the Transhumance Tracking Tool, which was created to reduce tensions and the likelihood of conflict between herders and pastoralists.
Brian Kelly, Visiting Lecturer in Princeton School of Public and International Affairs
"The students are producing a policy brief which will assist the client to be able to make informed and ethical policy recommendations that take into account multiple factors. These factors include the strengths and weaknesses of existing early warning systems, the various positions on governments and international organizations regarding the criteria for when displacement ends, and the role of people affected by displacement in system design, use, and review."
For "Implementing the ACA," a workshop studying state implementation of the Affordable Care Act, students went to Albuquerque and Santa Fe, New Mexico. They interviewed stakeholders, including state officials, health care providers, and advocates, to inform their research and final report, on advancing health equity in state healthcare programs. The instructors of this Policy Workshop are Heather Howard, a professor of the practice and co-director of the Center for Health and Wellbeing's Global Health Program, and Dan Meuse, deputy director of CHW's Advancing Coverage in States, and State Health and Value Strategies programs.
Among the other workshops, Martin Flaherty's "Addressing China's Human Rights Violations" students traveled to Taiwan; Eduardo Bhatia's "How to Finance Renewable Energy in Puerto Rico" students went to Puerto Rico; and David Ehrenberg's "Campus Visioning Project: Mercer County Community College" were in Arizona and New York City. Students in Dafna Rand's "Climate Change and Migration in Guatemala" workshop were unable to travel to the country.
"Policy workshops and their field research opportunities bridge the classroom and the real world," said Academic Program Coordinator Madeline Hehir. "The first-hand knowledge students glean from their trips leads to stronger policy recommendations, deeper connections with their clients, and more impactful final reports. These trips provide students with experiences that enhance their time at SPIA and beyond."