Oct 15 2019
By
Alex Wheatley '16 (Ecology and Evolutionary Biology), MPA '20
Source
Woodrow Wilson School
Since 2006, the Scholars in the Nation's Service Initiative (SINSI), based at Princeton University's Woodrow Wilson School of Public and International Affairs, has sought motivated, high-achieving students from any Princeton major who are interested in public service. The program, designed to encourage and prepare top students to pursue careers in the U.S. government, offers a variety of professional experiences, breaking a common misconception that working for the federal government means living in Washington, D.C., and focusing on issues of diplomacy, foreign assistance, or defense.
As an ecology and evolutionary biology major turned public policy graduate student who has just returned from six months of health policy work in Alaska, I've aimed to highlight below students studying a range of disciplines who have been accepted to SINSI. The six of us exhibit the many backgrounds, interests, and experiences within the SINSI community — showcasing how public service takes many forms. Whatever your passion, if you believe in the value of public service, you're welcome here.
I encourage all Princeton sophomores and juniors to apply for the fully funded SINSI summer internship (deadline: Nov. 6, 2019), and all Princeton seniors and first-year Master in Public Affairs (MPA) students to apply for the SINSI graduate fellowship, which includes a fully funded MPA from the Woodrow Wilson School and two years of fellowship work within the federal government (deadline: Oct. 18, 2019).
SINSI Graduate Scholars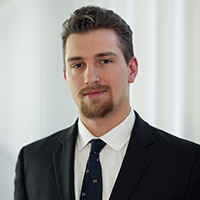 Michael Lachanski '15 (Economics) MPA '20
Michael Lachanski has actively sought out new ground for SINSI, working in offices or departments that have not previously hosted a SINSI scholar. An economics major, Lachanski spent his SINSI fellowship years working at the Department of the Treasury, International Affairs' Office of Banking and Securities Markets; the Department of Transportation's Federal Aviation Administration; the Department of Commerce's International Trade Administration; and the Department of Commerce's Census Bureau. He applied to SINSI because he was interested in a career that combines academia, government, and entrepreneurship. "SINSI, which offered placement in a variety of innovative policy shops combined with admission to a top public policy graduate school, had natural appeal," Lachanski said. In his fellowship experiences, he's been most impressed with agencies' forward-looking approach to data analytics. He returned to the Wilson School in fall 2019 to complete the second and final year of his MPA.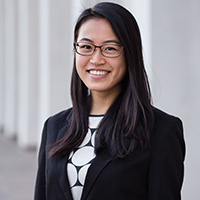 Emily Chen '17 (Civil and Environmental Engineering) MPA '21
Emily Chen has an engineering background. Her current SINSI fellowship rotation is at the Federal Energy Regulatory Commission, where she analyzes energy market filings to ensure just and reasonable energy rates. As with her previous SINSI fellowship rotations at the National Renewable Energy Laboratory in Denver, Colorado, and the Department of Energy's Office of Energy Efficiency and Renewable Energy, she has utilized both her civil and environmental engineering and Wilson School perspectives to provide key analysis to guide energy policymaking. She had expected to engage primarily in energy and climate policy — her areas of interest — while in the SINSI program. Instead, the Wilson School's interdisciplinary coursework — and varying interests among her close-knit cohort of MPA graduate students — exposed her to a much wider range of policy issues, from gun rights to data security. She believes this breadth and depth of policy coursework and experience will help her to "better serve the public's interest" over the long term. Chen is currently off campus, in the midst of her two years of fellowship work. She will return to Princeton in fall 2020 to complete her MPA degree.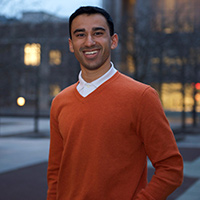 Kishan Bhatt '17 (Woodrow Wilson School) MPA '21
Kishan Bhatt is currently based at the Office of Global Affairs at the Department of Health and Human Services, working to lower the prices of and improve access to medicines. Previously, he worked on healthcare antitrust investigations and emerging biotechnology policy within, respectively, the Federal Trade Commission's Bureau of Economics and the National Institutes of Health's Director's Office. In these three fellowship rotations, Bhatt has contributed to policy formation and implementation, drawing on his graduate focus on economics and his undergraduate studies in global health, American Studies, and the Wilson School. He, too, emphasizes the value of an interdisciplinary background and the importance of cross-cutting skills for effective policy, explaining that "in an age of rapid innovation and creativity, policymakers need enough fluency in scientific fields to assess the economic, social, and security takeaways." Bhatt will return to Princeton in fall 2020 to complete his MPA degree.
SINSI Interns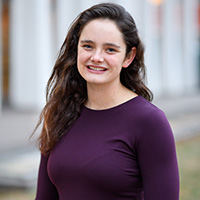 Meghan Slattery '20
Meghan Slattery is an operations research and financial engineering (OFRE) major. She recently completed her SINSI internship with the Overseas Private Investment Corporation (OPIC) as part of the 2X Women's Initiative and 2X Challenge team. Her work with women-owned, -led, and -supporting enterprises left her excited about the extent to which economic policy can influence investment strategies and energized by the vast number of opportunities she saw for meaningful federal work in the field of development finance. Through SINSI, Slattery has discovered a public service niche catered to her academic background and interests. "SINSI has opened my eyes to exciting career opportunities, introduced me to incredible individuals, and allowed for continued learning and inspiration," she said.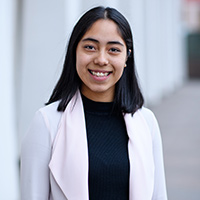 Gabriela Oseguera Serra '20
Gaby Oseguera Serra recently returned from her SINSI internship at the Peace Corps, Office of Global Health and HIV. A politics major, she applied to SINSI because she wanted to see if public service would be a good career for her. She says SINSI's close-knit and welcoming community was another huge draw for the program. In her months at the Peace Corps, she was inspired by the hardworking and enthusiastic people she met in the field. Her favorite moment was when her office turned her 20-minute final presentation into an hour-long event complete with celebratory snacks, a card, and deep and thoughtful discussions of her work. Back at Princeton for her senior year, she's "excited to pursue a career in public service knowing that a caring, smart, and diverse community such as the SINSI scholars is jumping on the exciting ride with me!"
---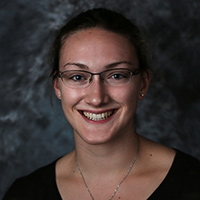 About the Author
Article author Alex Wheatley '16 MPA '20 majored in ecology and evolutionary biology. She returned to Princeton in fall 2019 with gratitude and (maybe) wisdom after three geographically and conceptually diverse fellowship rotations within the Department of Health and Human Services — epidemiology at the Centers for Disease Control in Atlanta, health diplomacy at the Office of Global Affairs in D.C., and health program evaluation at the Alaska Area Indian Health Service office in Anchorage. She can be reached at ajw2@princeton.edu.