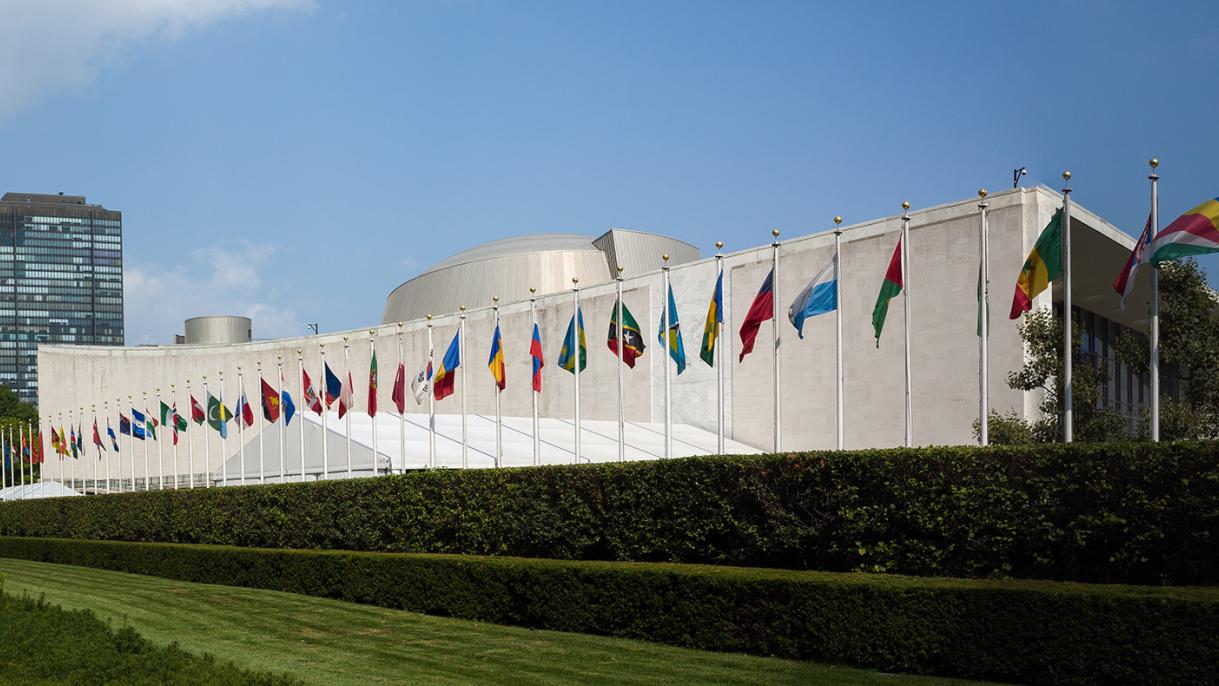 SPIA at the U.N. General Assembly
Sep 28 2023
Source
Princeton School of Public and International Affairs
More than 150 students, alumni, and faculty of the School of Public and International Affairs gathered in New York last week for activities connected with the 78th session of the United Nations General Assembly.
The first event, on September 21, was a panel discussion among four alumni about the U.N.'s 17 Sustainable Development Goals, adopted by all of the member states in 2015, at their approximate halfway point. Razia Iqbal, the John L. Weinberg/Goldman Sachs & Co. Visiting Professor and Lecturer in SPIA, moderated. The alumni panelists were Ambassador Christopher P. Lu BA '88, representative of the U.S. to the United Nations for U.N. Management and Reform; Shantanu Mukherjee MPA '00, Ph.D. '06, director of the Economic Analysis and Policy Division in the U.N. Department for Economic and Social Affairs; Minh-Thu Pham MPA '03, lecturer and non-resident fellow with SPIA; and Gizem Sucuoglu MPP '22, head of the Policy Coordination Unit and special assistant to the Under-Secretary-General U.N. Office for Disarmament Affairs.
"This conversation was an interesting one in the context of these deeply ambitious goals, some of which they're moving toward meeting but many of which remain very, very far from the U.N.'s grasp," Iqbal said. "Context is really important for people to understand. Given the audience was SPIA students, context is everything. You've got to be able to understand where things have come from and where they are at the moment."
Following the discussion, alumni and students engaged in networking.
"This served as a perfect opportunity for alumni affiliated with the U.N. to meet with alumni and current students interested in careers there," said Barbara Hampton, director of graduate career development.
The following day, SPIA's Afghanistan Policy Lab convened a discussion at the U.N.'s headquarters. "Combating Gender Apartheid: The Situation of Women & Girls in Afghanistan" examined why today's Afghanistan is a state of "gender apartheid" and shed light on the pressing issues pertaining to women's rights and human rights under the Taliban regime.
The robust panel included APL Director Adela Raz; Heather Barr, associate director of the Women's Rights Division of Human Rights Watch; Richard Bennett, U.N. Special Rapporteur on the situation of human rights in Afghanistan; Maryam Rayed, a women's rights activist and human rights defender; Metra Mehran, a human rights activist and fellow at New York University's School of Professional Studies; Yalda Royan, a women's rights activist and human rights defender; and Ambassador Melanne Verveer, the executive director of the Georgetown Institute for Women, Peace, and Security.
The events marked the first time the School had planned gatherings specifically to coincide with General Assembly sessions. SPIA Dean Amaney Jamal noted the significance of the students' presence, saying, "It is extremely important to have our students in attendance at the U.N. as global actors work to advance critical policies."
"Several current and prospective students desire to work at the U.N., and many of our alumni do," added Steven Petric, assistant dean for global outreach, admissions, and alumni engagement. "These SPIA-supported events on the sides of UNGA 78 showcase what we're working to do with our strategic plan — connect, contribute, collaborate."