Graduates the world over hear often of their new obligation to use what they have learned and experienced in their programs to make the world a better place. When their degrees bear the name of one of the world's most preeminent public policy schools, the call becomes that much poignant – and appropriate.
So it was for bachelor's and master's degree recipients of the Princeton School of Public and International Affairs, who gathered in separate ceremonies on Monday, May 29, the day before the University held its Commencement.
Addressing the annual hooding and awards ceremony, held in McCarter Theater, SPIA Dean Amaney Jamal reminded master's graduates that a Princeton degree confers both great privilege and great responsibility.
"I know I do not need to tell you that you have an obligation to pay this privilege forward," Jamal said. "Yet I would still be remiss if I didn't say it today.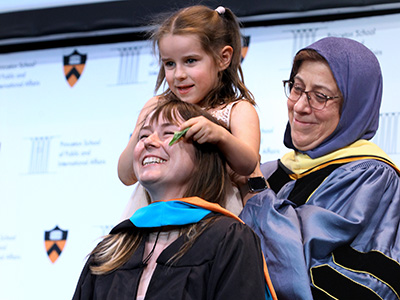 "As long as there are still injustices in the world, your class must raise your voices in support of justice," she continued. "Income inequality in the U.S. continues to skyrocket. Democratic ideals are under threat not only in this country, but in several countries around the world. A horrific, unjust, and unjustified war continues in Ukraine. And we continue to see near-daily reminders of the persistence of racism. No matter your policy path, I'm confident you'll lead on the issues that matter most to you and your communities."
At the graduate level, SPIA's Class of 2023 comprised 76 Master in Public Affairs recipients, including one earning a joint MPA/J.D. degree and three having participated in the Scholars in the Nation's Service Initiative, and 20 Master in Public Policy recipients. Most were present to be hooded by Jamal, who was assisted in a handful of cases by the young children who accompanied their degree-receiving parents.
The ceremony also saw the School award prizes to five students.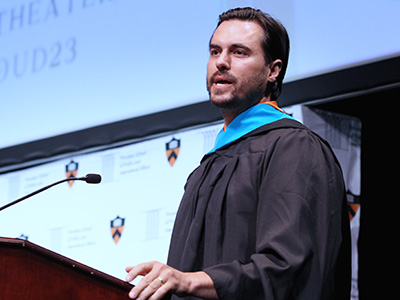 Steven Petric, SPIA's assistant dean for global outreach, admissions, and alumni engagement, noted that service is the most significant factor he and his colleagues look for when reviewing applications for enrollment.
"We're looking for folks who have demonstrated a sincere commitment to public service or the public good," he said. "And I'd like to challenge each of you to keep to that as you progress in your careers.
Redouble your commitment to service and to serving others."
Student speakers echoed the theme of service.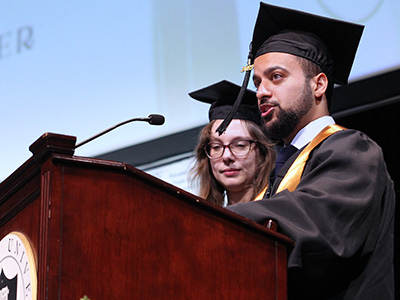 "Reflecting on the milestone of graduation and what our time at SPIA has meant, we kept returning to what an incredible privilege it has been to be here," said MPA graduate Haley Lemieux, a former co-chair of the Princeton University Policy Student Government. "It has been a privilege to take time out of the workforce to think deeply about issues that we care about and that matter in the world. … More than anything else, it has been a privilege to spend this time in our SPIA community – a community that cares about making a difference both in the world and to the people around them."
Her former PUPSG co-chair, MPA graduate Kazim Habib, expressed an understanding of he and his fellow students' obligation as SPIA and Princeton alumni.
"As we know from our public service and personal lives, a degree from a historic place like Princeton is not usual," he said. "I can't help but think we have to do something with that, that we have a responsibility to be 'in service of humanity,' as Princeton's motto always repeats."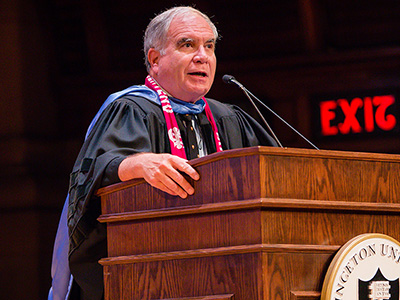 At SPIA's Class Day ceremony, held in the afternoon in Richardson Auditorium, graduating seniors gathered for the awarding of thesis and departmental prizes. In his opening remarks, Miguel Centeno, SPIA's executive vice-dean, praised the graduates, whom COVID-19 sent home from campus in the spring of their freshman years and who didn't return until the fall of their junior years, for their remarkable grit and tenacity.
"Throughout all this turbulence, you kept up with your work," Centeno said. "In fact, you did more than just keep up. Your leaned economics, politics, science, psychology, sociology, and ethics; languages, policy, statistics, history, and how to write an 80-page thesis. … You kept up with your friends even if you couldn't see them for a year! And all of you demonstrated an extraordinary degree of resilience. That you showed so much of it during this difficult time is a tribute to your character and to your commitment to Princeton. We thank you."
Student speaker Abdelhamid Arbab spoke of the oft-shared sentiment – both at Commencement ceremonies and throughout his time at Princeton – that it is he and his classmates' generation that is faced with the daunting task of righting the deeply instilled wrongs – the "civilization-scale challenges" – of prior generations.
"When confronted with this question, namely how do we deal with the seeming impossibility that is tackling some of our most deeply imbedding systemic injustices, I decided to ask a few mentors and professors that I personally benefitted immensely from during my time at Princeton," he said. "One mentor, who many on campus see as someone to go to for everything non-academic, … instructed that, while there is no cookie-cutter advice to offer, he'd imagine that, for anyone involved in policy, what can often be lost is the skill or virtue of listening to the individuals in front of us and responding with open hearts."
Arbab was awarded a Marshall Scholarship and is off to the United Kingdom for two years of graduate study. Following that, he will enroll at Harvard Law School, to which he was awarded admission through its junior deferral program.
"I hope as we all journey outside of Princeton, as the school and generation closely entrusted to deal with numerous crises and injustices," Arbab concluded, "not only do we all position our professional lives to tackle them but that we continue to interrogate our own limitations as human beings so that we can bring beauty and peace to the world around us."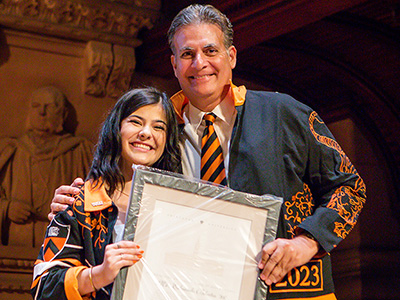 Eleven graduating bachelor's degree students were honored with awards and prizes at the ceremony. In addition, Eduardo Bhatia, the John L. Weinberg/Goldman Sachs & Co. Visiting Professor and Visiting Lecturer in Public and International Affairs, was named an honorary member of SPIA's Class of 2023 and presented with a class jacket. Graduating senior Taryn Sebba introduced Bhatia and helped him don the jacket.
"The Class of 2023 is humbled to welcome Mr. Eduardo Bhatia as an honorary member," Sebba said. "His dedication to service, from Puerto Rico to Princeton, has changed these communities for the better. May the Class of 2023 continue to learn from the compassion and altruism of Mr. Bhatia."
Recognizing the abundance of seminal events this year's graduates have faced during their time at the University, and the dizzying pace of change in virtually every discipline, Jamal offered a parting reminder to the Class of 2023 as they embark or continue on careers in policymaking, government work, advocacy, and the like.
"Yesterday's policies," she said, "might not be suitable for tomorrow's future."