Dear SPIA Community,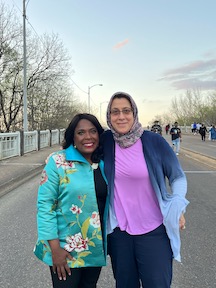 Our School's mission is to encourage, support, and prepare leaders — including bright, thoughtful, driven women — for careers in public service. In working toward this goal, we've always been inspired by and strive to follow trails blazed by history-making women, including all women across the globe. Given the expertise and talent found within our walls, it's no surprise many women with ties to SPIA are leaving their mark on history.
​
I often think of my predecessor, Cecilia Rouse, who became the first Black chair of the Council of Economic Advisers at the White House. Over in Congress, Rep. Terri Sewell '86, who I recently saw at the Edmund Pettus Bridge Crossing Jubilee in Selma, is one of the first women elected to Congress from Alabama in her own right and the first Black woman to ever serve in the Alabama Congressional delegation.
SPIA women lead outside of the public sector, as well. Jennifer Beam Dowd Ph.D. '04 MPA '02 has been recognized for her outstanding and diverse data-driven policy interventions during the COVID-19 pandemic. Dowd and Lauren Hale Ph.D. '03 MPA '01 are founding members of Dear Pandemic, a digital platform curating credible and timely information about COVID-19. Meghan Nutting MPA '08 and Steph Speirs MPA '14 have been recognized, along with fellow Princeton alumna Cheryl LaFleur '75, for outstanding leadership and accomplishments in clean energy.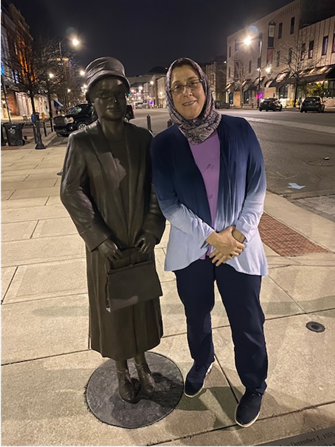 These are just a few examples of the hundreds of SPIA women out there making history. As we celebrate these and many other achievements this month, one of the voices I am excited to hear from on March 21 is Sue Biniaz, U.S. deputy special envoy on climate change and a SPIA Leadership Through Mentorship visitor. Sue served more than 25 years as the State Department's lead climate lawyer, playing a central role in all major international climate negotiations, including the Paris Agreement. Now, she's a member of a team created by the Biden administration and led by John Kerry, who serves as the special presidential envoy for climate. Sue's public, livestreamed talk is one of many events across Princeton's campus celebrating the achievements and contributions of women across locations, generations, and disciplines. You can find more events, both in-person and virtual, below.
Every day, I am thankful for the opportunity to lead alongside so many talented women at the University and within our School. I hope you'll join me in lifting up their stories and accomplishments.
Warm regards,
Amaney Jamal, Dean
---
Women's History Month Events Across Campus:
Women in Princeton's History
Recorded event
Celebrating 50 Years of Inclusion: Women of Color Dinner
March 16
6 p.m.
Carl A. Fields Center, Room 104
Women in History Academic Panel
March 17
7 p.m.
Carl A. Fields Center, Multipurpose Room
A Conversation with Sue Biniaz
March 21
4:30 p.m.
Robertson Hall, Arthur Lewis Auditorium
Livestream: YouTube
The Secret Lives of Church Ladies: A Conversation with Author Deesha Philyaw
March 22
6 p.m.
Carl A. Fields Center, Room 104
Works-in-Progress Jules Gill-Peterson: How to Do the History of Trans Femininity
March 24
12 p.m.
Zoom
Ruth Simmons Portrait Unveiling Ceremony
March 25
4:30 p.m.
Firestone Library, Trustee Reading Room
The Hello Girls
March 25-27
Berlind Theatre at McCarter Theatre Center
Women's History Month Alumni Panel
March 30
5:30 p.m.
Carl A. Fields Center