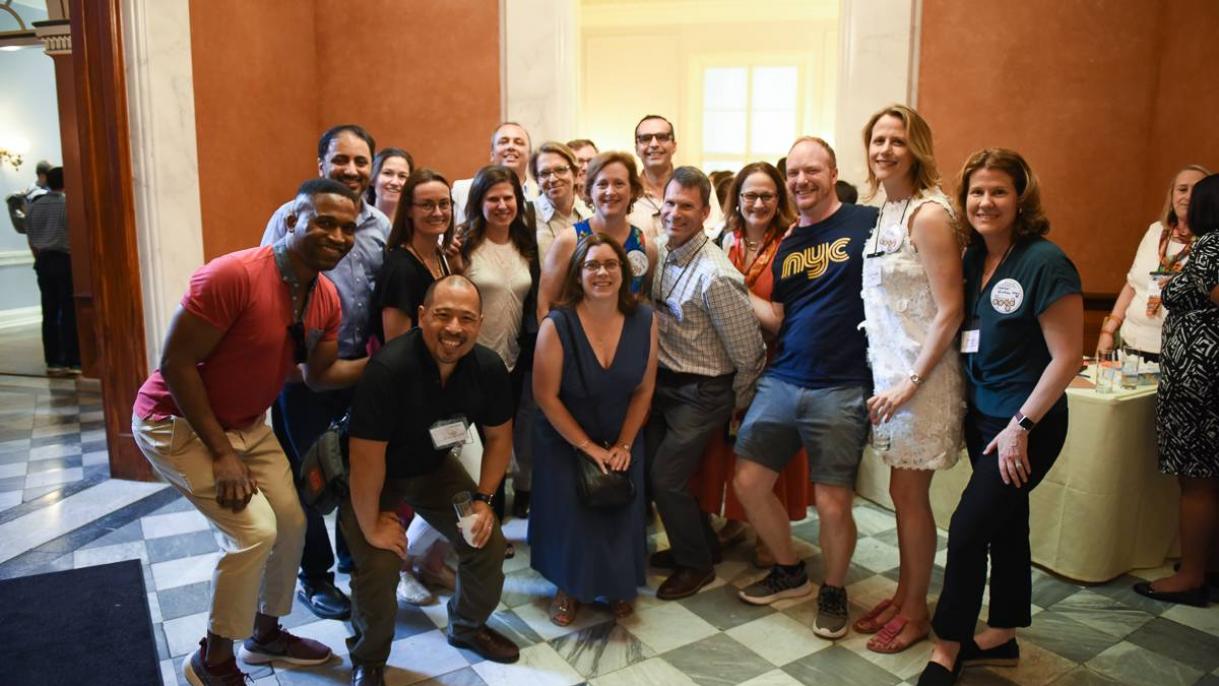 The Princeton School of Public and International Affairs is known for its tight-knit community, and your place within it lasts a lifetime.
Our alumni are role models who inspire current students, sharing their social networks, ideas, insights, and career advice. Some return to campus as visiting lecturers, guest speakers, practitioners-in-residence, and career panelists. Others are prospective employers, making internships and jobs available to current students.
Some alumni influence change at the School by serving as members of its Advisory Council or as Annual Giving class agents. Others become recommenders for applicants to the School's graduate degree programs or donate to new initiatives.
If you want to give back, contact Barbara A. Hampton at bhampton@princeton.edu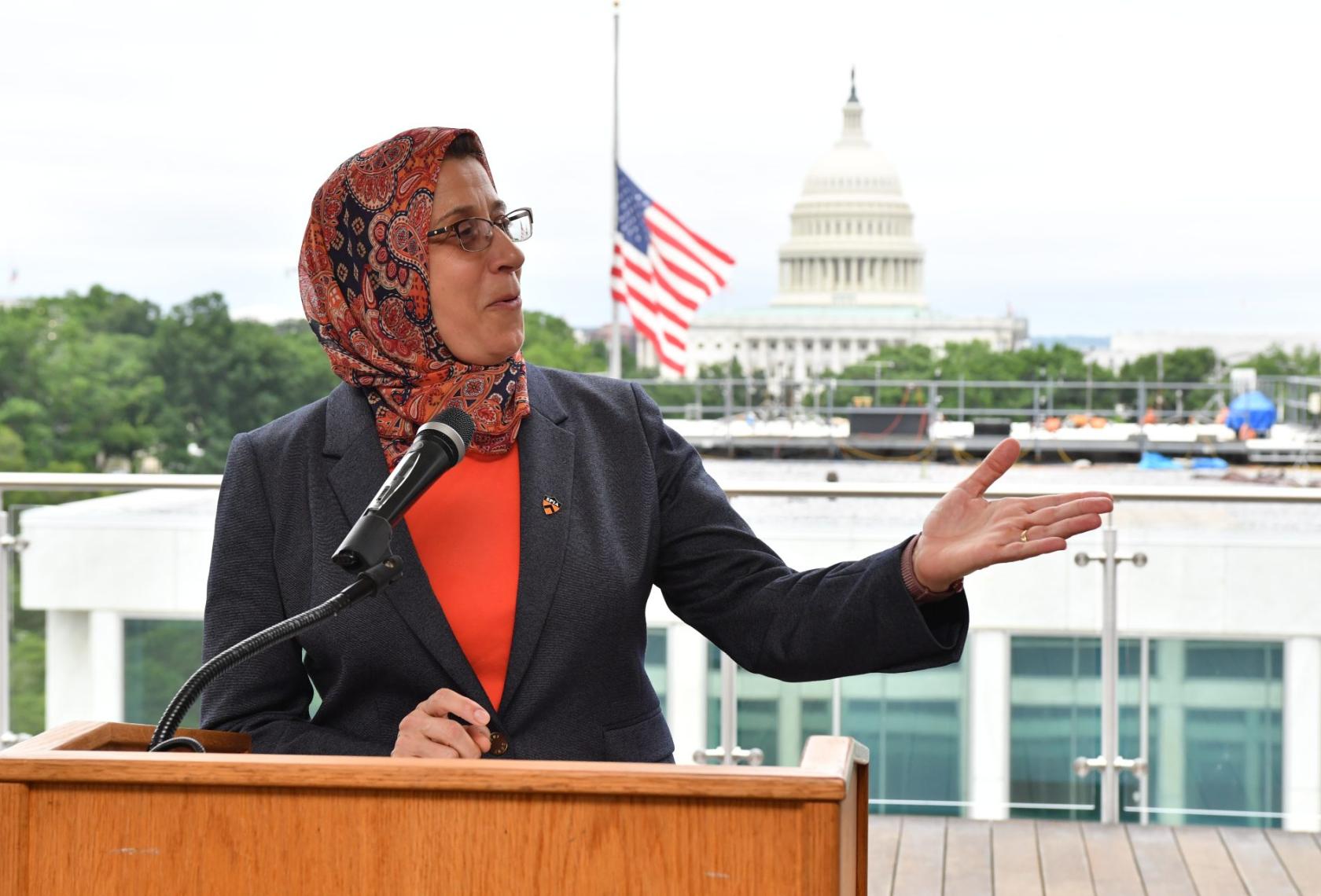 Alumni Gather at the Capitol View
Dean Amaney Jamal hosted her first Washington, D.C., alumni event on May 26. Nearly 150 alumni gathered to reconnect — some for the first time since the COVID-19 pandemic began — and hear about her vision for the School. Guest alumni speakers included Sara Lopez MPA '10, Christina Henderson MPA '12, and Chris Kojm MPA '79.
Career Development
The Graduate Career Development and Alumni Relations office is available to assist graduate alumni on the job market and those who would like to help current graduate students in their job or internship searches and/or professional development.
Below are helpful resources to begin your search. 
Community Connections
The School makes it easy to stay connected with other alumni. The first step is joining the Princeton School of Public and International Affairs Graduate Alumni Community on LinkedIn, where alumni can connect with more than 3,500 graduates and current students at the School.
How to Join the LinkedIn Group
Log in or set up a free account.
Use "Princeton University" in your education section instead of "Princeton School of Public and International Affairs" to connect with fellow alumni and current students. More than 75,000 Princeton students and alumni are part of Princeton's LinkedIn Community, including many undergraduate alumni who have also pursued careers in public affairs and would be happy to connect with you.
Search Tips: Enter several words in the keyword search box to find people working in your areas of interest (e.g., policy cybersecurity research). You can also narrow your search by region, organization, or skill set. Always include policy as one of your keywords to get the best results.
TigerNet Alumni Directory
Although LinkedIn is the primary way current students and recent graduates identify and connect with graduate alumni with similar interests, alumni can still view contact information for classmates in TigerNet, the University's central alumni database.
Using TigerNet
Keep your profile updated to receive invitations to on- and off-campus networking events. We send graduate alumni invitations to these events based on your preferred address and/or Princeton Alumni Association (PAA) region.
Use the TigerNet Alumni Directory to find all MPA, MPP, and Ph.D. alumni. Select "Graduate Alumnus" and "Princeton School of Public and International Affairs" as the department to search all graduate alumni profiles. You can narrow your search by selecting your graduation year.
Most alumni have a personal email address visible in the Home Contact Information section of their profiles. Some also have their work email address listed in the Career Information section.
New to TigerNet?
First-time TigerNet users who graduated after 1980 can register for an account online.
First-time TigerNet users who graduated prior to 1980, should call the TigerNet Online Community Help Desk (609-258-1542) to verify their date of birth and provide an email address before trying to register online.
Having Trouble Accessing Your Account?
If you created an account in the past and cannot log in, you can retrieve your username and/or reset your password online.
The TigerNet Support Team is available for tech support 24 hours a day, seven days a week at 609-258-1542. The Career Development and Alumni Relations team can answer general questions about TigerNet at spiacdar@princeton.edu or 609-258-4812.
Additional Resources
Annual Giving
Graduate alumni can support efforts to educate future public leaders by donating to the Graduate Alumni Annual Giving Campaign. Donations are a convenient way to support current students and the University by providing unrestricted resources to address students' needs.
Graduate alumni serving as Annual Giving Campaign class agents will be in touch to encourage you to give. If you would like to know the name of the class agent assigned to your class, contact us at spiacdar@princeton.edu.
Making Contributions:
Mail: Send a check or a credit card number, along with a pledge card.
Phone: 1-800-258-5421 (U.S.); 1-609-258-3373 (outside of the U.S.); and provide a credit card number.
Reunions
Our graduate alumni community is well-represented at Princeton Reunions, partnering with the Association of Princeton Graduate Alumni (APGA) as the largest participating graduate department. Come back to campus, catch up with old friends, and enjoy everything Princeton Reunions has to offer.
 
Save the Date

Reunions 2023
May 25 - May 28, 2023

Reunions 2024
May 23 - May 26, 2024
For more information on this visit reunions.princeton.edu.
Although formal registration for Reunions is not required for School-specific events, it is required for all other events including class gatherings, meals, and parties in the APGA tent. Follow APGA's website to register and stay up to date.
Additional Programming Requests 
Graduate alumni returning to campus are encouraged to participate in existing Reunions programming since many of our graduate alumni, faculty, and graduate students will be featured in panel discussions and public talks.
If your class would like to make more formal arrangements, please contact us for more information.
The School cannot reimburse or subsidize expenses related to additional events organized by individual classes. Princeton Conference and Events Services can assist with event coordination, but this will incur fees for room reservations, table rentals, printing, cleaning, and/or catering, which will be charged to the main point of contact for your event.